Date/Time
Date(s) - May 14 - Aug 31

Location
OUR Ecovillage
3½-month programme from May 14th to August 31st, 2012
or
10-week program – register on this page.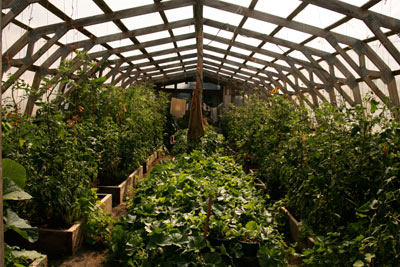 The food production internship is an intensive 3½-month program that fully immerses interns in small scale permaculture farming and community living. This site is great as an introduction to those who are new to growing food or as a place for people with a bit of previous experience to explore specific interests. We aim to be comprehensive and well rounded in what we teach in this internship, although we do not grow all types of crops and are not a self-sufficient site as of yet (if a truly self-sufficient site actually exists), so we supplement our program with other activities such as field trips, workshops, and certificate courses. The main areas of practical hands-on work and learning are:
All aspects of our annual vegetable production including indoor seeding and greenhouse work, watering, bed preparation, composting, transplanting, seed sowing, weeding, mulching, harvesting, and seed saving
Establishment and maintenance of perennial food systems including site design, plant propagation, planting, tree training and pruning, feeding, weeding and mulching, and hopefully harvesting!
Care and management of animals which may include general care, milking, feeding, paddock management, and slaughtering
Maintaining and improving farm infrastructure which may include bed construction, greenhouses, fencing, irrigation, and general garden construction
Preservation of the harvest including storing, canning, drying, and dairy processing
Living in community including participating in a weekly community meeting and council, community chores, helping with special events, and enjoying each other!
Opportunity to practice facilitating or teaching with school groups (daycare children all the way up to PhD students) in farm-based educational activities
The hands-on aspects will be rounded out by field trips to local farms governed by all sorts of different models, as well as more formal classroom time to complete Gaia College's Organic Master Gardener Certificate (OMG) and the Permaculture Design certificate (PDC), both of which will be taught on site.
Interns can expect to spend 5 days a week (not necessarily Monday to Friday) with the team, either on the farm or in class. Some days will be longer than others, with an average of 40 hours per week, including farm chores. There will generally be 2 days "off" per week (except during the PDC), though each intern will be on duty for rotating weekend chores twice over the internship. Each intern will have 5 additional vacation days throughout the season to be used if needed.
No previous experience is necessary; what is important is a desire to learn and participate in all aspects of growing food and living in community. You will be fully immersed in the work we do, which means working alongside us to do whatever needs to be done on a daily basis. Physical fitness and stamina are also a must. We can work long days which could include long periods of kneeling, bending, lifting, carrying, digging, wheelbarrowing, etc.
We work hard, but we try and balance it out. Afternoons are sometimes spent swimming at our favorite local swimming holes or relaxing in the sun over a couple of beverages. Rock climbing, ultimate frisbee, hiking, cycling, dancing, yoga, meditation, jam sessions, and campfires were all common activities this past summer as well.
Who would benefit from this program?
People interested in experiencing community in a rural setting
Beginner food growers inspired to learn a wide range of food system and food security models
People ready to immerse themselves in permaculture lifestyle design
People interested in self-sufficient systems and homesteading
People who are flexible, energetic, comfortable in groups of people, and able to manage a
broad diversity of challenges at once.
People with a good sense of humour, positive enthusiastic attitude, and willingness to learn
About OUR Community
Very briefly, we are a community of about 15-20 adults and children sharing meals, space, and facilities, and actively participating in each others daily lives. This population fluctuates greatly over the year swelling up to 30-50 residents over summer and up in the hundreds for short periods of time during major events.
Explore our website to find out more about this beautiful and dynamic community, and catch a glimpse of what is so hard to put into words!
About OUR Farm
As farmers at OUR, our goal is to grow highly nutritious organic food for the community throughout the summer and to put away for the winter. We have a small holding of no-till raised beds for intensive annual vegetable production, including two 75-ft greenhouses. We are in the process of establishing about nine acres of integrated perennial food systems, including fruit and nut trees, bushes, herbs, and berries. We raise sheep and pigs for meat, and chickens and ducks for both meat and eggs. We have a dairy cow for milk and make our own yogurt, butter, and cheese. OUR long-term goals are nothing short of food self-sufficiency!
Dates
May 14th to August 31st with the possibility for some interns to stay on in the fall to extend their learning.
Meals
All meals are shared with the fluctuating community in our outdoor kitchen, prepared by our wonderful cooks. We eat mostly omnivorous meals but try to work with most special diets.
Accomodation & On-Site Amenities
Bring your own tent or trailer.
Semi-outdoor hot showers: One in our greenhouse and two in our bathhouses
Composting Toilets
Wi-Fi access
Washing machine and clotheslines to dry your clothes
The Chillage – a place to hang out, do homework, socialize, and relax.
Wood-fired cedar sauna
Library in our large yurt
Costs
The cost for this internship is $4000 plus an additional $100 application processing fee. The $4000 includes:
Site and food costs for the duration of the internship. All people living on site pay these.
Permaculture Design Certificate (PDC) at a discounted rate
Gaia College's Organic Master Gardener Certificate (OMG) at a discounted rate
Facilitation of your hands-on work-learning by OUR Farm Managers, Mike Cloutier and Kate Rustemeyer
Application Process
Step One: We highly recommend that you visit the ecovillage before you consider applying to the internship. If that's not possible, move straight on down to Step Two.
Step Two: Pay the $100 application fee by clicking the big green register button at the bottom of the page and email a resume and vision statement to OUR Farm Managers, Mike and Kate, at grow-food@ourecovillage.org. The vision statement should make clear whatever inspired you to apply for this internship, what you would like to get out of your summer here, and what you would like your life to look like after you leave here (if you ever leave here).
Step Three: We'll set up a hands-on interview with you here at the ecovillage if possible, otherwise we'll have a phone/Skype interview with you.
Step Four: Hopefully everything will seem like a good fit for everyone, and we'll send you some
reading materials to peruse while we all await your arrival!
Also, before you come please read through the Visitors Handbook.
There are no application deadlines, but we will limiting the number of interns we take to 4 or 5.
Send us (Mike and Kate) an email at grow-food@ourecovillage.org!
Bookings