Date/Time
Date(s) - Aug 6 - Aug 10

Location
OUR Ecovillage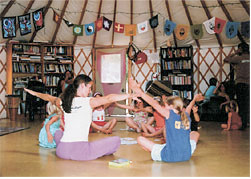 This year Earth Dance Children's Camp is back to rock Y(OUR) socks. It will include a morning of music and dance with an afternoon on the farm; the perfect partnership between Moondance Dynamic Arts School and O.U.R. Ecovillage!
Outline
There will be three groups of children experiencing exciting dance and music adventures over the course of a week from 9am – 4pm daily at O.U.R. Ecovillage.
Group 1: 3 – 5 year olds *children in this age group need to be accompanied by a caregiver/parent
Group 2: 6 – 8 year olds
Group 3: 9 – 11 year olds
Note that there is an option of staying all day, all week – Earth Dance in the morning, plus other Eco Activities in the afternoon. Lunch Included. This option is only available only for children aged 6 – 11 years. Younger children are permitted if accompanied by a caregiver.
Monday Village Day! Monday all day, families can engage in cob building, Village tours and more. Farm Kids programme includes this day. For non-farm kids, caregivers must be on-site.
Detailed Schedule
Parents, on the first day please meet in the Yurt at 8:45am and plan to be at the Ecovillage until 9:15am to ensure a smooth start.
Check out this years incredible fusion of West African Dance (Moondance Studio – Lynn Weaver), Marimba classes, and Eco-Activities (O.U.R. ECOVILLAGE – variety of Discovery Guides). With an option for 4 days of mornings only….or a 'Farm Kids" option for the holiday Monday and afternoons all week (eco-activities that you can even jump in on with your child – but be prepared to get down and dirty!)
The homesteading kids afternoons focus on learning about well-being and sustaining OURselves. We have children's Reiki, plant medicine learning, and so much more. This is a five day camp with a wide variety of onsite activities to build community and 'permaculturalize' OUR lives.
"Campers" also engage in Eco Village Hands-On Learning Activities, taking full advantage of this wonderful farm & community-oriented location.
Who are the instructors?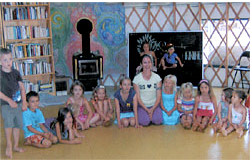 Different folks on the village are joining in with various expertise to create the curriculum for the farm. Included are some of our continuing interns in the garden, O.U.R. Kitchen Magicians, Livestock managers etc. It's a beautifully dynamic team ready for the incredible journey of children's camp!
Dance – Lynn Weaver
Lynn has been dancing all her life and loves sharing her passion for dance. She has studied and performed extensively across a range of disciplines, around the World. Lynn had the honor of teaching dance at Maxwell International School, and has been the artistic director of MoonDance for over 10 years! She also operates a non-profit Society, Matoto Multicultural Arts Society.
Music
Music classes would incorporate storytelling with xylophones and marimbas, offering opportunities for all levels of ability.
The cost of the day long program includes lunch. Options for camping onsite are available through our registrar, please contact the office for details.
Sounds great! Register below
Pre-registration required.
Read our cancellation policy here. Family discounts apply.
Bookings