Date/Time
Date(s) - May 17 - Jun 2
6:00 pm - 4:00 pm
Location
OUR Ecovillage
"Fundamentals of Permaculture"
May 17 (evening) – June  (morning), 2012
72 hour PDC over 16 days & evenings packed with learning from various instructors who are specialists in their field.
"What permaculturists are doing is the most important activity that any group is doing on the planet. We don't know what details of a truly sustainable future are going to be like, but we need options, we need people experimenting in all kinds of ways and permaculturists are one of the critical gangs that are doing that."
- David Suzuki, International Environmental Advocate
Course Description and Content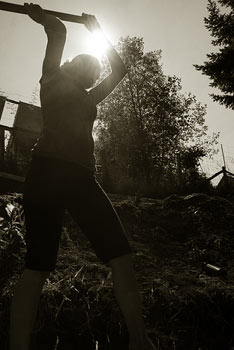 The Permaculture Design Course is an information packed 72-hour intensive course combining theory with practical hands on learning. Completion of the course earns participants a Permaculture Design Certificate – the foundation for further permaculture work and study and a prerequisite for the Diploma in Permaculture Design, offered through The Permaculture Institute in Australia.. Participants will learn Permaculture design principles & techniques. The course includes lectures, discussions, hands-on, slide shows, field trips and design projects. We will examine the underlying assumptions of the current culture of consumerism and economic globalization, and encourage exploration of ways to contribute to the emergence of a culture of sustainability, compassion and equity. The Permaculture Design Certificate course covers a broad range of subjects to provide a holistic overview of Permaculture systems and sustainable living. Some of the topics/ themes to be covered:
Evidence for change & the ethics of sustainability
Principles of Permaculture
Observation & landscape analysis
Ecological planning & design methods
Organic food production and food security
Climatic factors in design
Soils: Natural soil improvement
Integrated animal systems
Water: harvesting, conservation,and management
Agroforestry & forest gardening
Appropriate technologies & renewable energy systems
Mapping & design exercises
Techniques and design strategies for both urban & rural applications
Ecovillages & sustainable human settlements
What is the Permaculture Design Certificate?
"Permaculture" is a copyrighted word. Only upon satisfactory completion of this course is an internationally recognized "Certificate of Permaculture Design" issued. Graduates are then eligible to use Permaculture in the promotion of designs, teaching and landscaping. Following at least two years of applied work, you are eligible to apply for a Diploma of Permaculture Design through the International Permaculture Institute.
What will I learn?
Learn about harmonious integration of land and people in such a way that the needs of food, energy and shelter are met without diminishing the natural world
Develop design skills including mapping, site analysis and assessment, and site design
Develop ecological observation skills, learning to arrange and design landscapes that work in symbiosis with nature's rhythms
Understand and apply Permaculture design, organic gardening, and natural building techniques into the creation of a Permaculture design project
Experience & learn about the critical skills of observing, listening, opening and receiving
Students who complete this course will be able to assess human landscapes and dwellings and then provide design solutions towards living sustainably. With practice and mentorship students will develop design skills that may lead to a meaningful livelihood. All students who complete this certification course leave with a much deeper understanding of their impact on the planet and each other, and with the critical thinking skills to lessen or improve that impact.
Participants from over 60 countries in all regions of the world and from all walks of life have called the Permaculture Design Course " life-changing , transformative, and enormously affirming". In the lively company of a diverse group of engaged and motivated women and men with a common interest in the future of humanity, learning is rapid, multidimensional, and long lasting.
Where can I go after this course?
Embarked on new farming practices
Found ways of dramatically reducing energy consumption
Begun land-based ventures & small businesses such as: Nurseries, landscape design consultancies, etc.
Realized goals towards self-sufficiency
City dwellers have found that even with little or no land, Permaculture shows them how to work with their home to produce food, reduce energy needs, live more ecologically and in closer connection with their communities. Educators, farm adviser's, international development workers, garden directors, builders, master gardeners, and landscape architects have all reported that what they've learned in this course has become a foundation for their work. Farmers, nursery owners, foresters and livestock farmers have all found that Permaculture design has multiplied their incomes, reduced their work, and improved the health of their stock.
Who will I be learning with?
Instructors: Charles & Javan
Charles Williams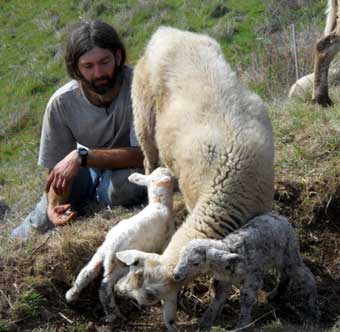 Charles, a certified permaculture designer, Managing Golden Rabbit Ranch in Norther California , He comes to OUR Eco-Village through a love of the wild, faith that healthy communities can solve complex problems, and a belief that working with one's hands is sacred work.
Over the past two decades he has stewarded many pieces of land throughout the United States, including Diana's Grove in Missouri, Farm & Wilderness summer camp in Vermont, and Golden Rabbit Ranch in California. His approach simultaneously promotes both preservation of wild spaces and conservation of the domestic. His deep respect for and relationship with the divine in nature informs all he does, integrating spiritual practices with land management. Charles also understands the need for healthy community and knows that skilled human implementation is an essential part of any design. In these challenging times, he finds hope for the future through the interlocking, symbiotic relationship of spirit, community, and action.
Charles is a talented facilitator and conflict mediator. He has worked with many groups, from mass mobilization meetings with over 100 people to a handful of people working for progressive organizations, from Quaker-style Unity to anarchist-style consensus, from inexperienced teens to highly trained professionals. Through a rough and rugged process he has gained an eye for what helps build community and support.
As an accomplished tinker Charles brings a wide range of practical and somewhat obscure hand skills. He has installed complex systems such as solar electric arrays, gray water filters, and veggie oil diesel conversions. He has implemented simple systems such as emergency water filtration, humanure composting toilets, and rotational grazing plans. He is talented in wilderness tracking, solo canoeing, gathering and tending wild edibles, starting fire by hand, and mapping. He loves to work with his hands, whether he is tanning hides or repairing a generator, this love is reflected through his hands on teaching style.
Charles believes that no problems are unsolvable as long as we work together to develop and implement our plan effectively and honor the holy in our work.
Javan Kerby Bernakevitch is driven to provide the right balance of theory, practical experience and integration of community to ensure students retain, use and leave Permaculture BC educational opportunities prepared and inspired to take positive action. Versed in construction, natural building, environmental education, group facilitation and organic gardening, Javan offers a unique balance of content-focused education with student-centered learning. His recent work experience includes working with OUR Ecovillage as a Permaculture practitioner and educator producing bio-regionally appropriate greywater and natural building systems. He is currently working with Food Forest expert Richard Walker on a large commercial Permaculture landscape in Alberta; and a book on Permaculture Design to be published in 2012. Javan continually aspires to spread the lessons of Permaculture through Vancouver Island Permaculture Community and Meetup Group and articles for Urban Garden and other publications.
Teaching Assistants  on this course: Brock, Ini and Logan!
Brock Foster
Brock's most resent training has been with The ManKind Project on The New Warrior Training Adventure Weekend and is presently moving forward with The ManKind Project's Primary Integration Training which will move him into a staffing position with the ManKind Project! He completed his Permaculture Design Certificate and Earth Activist Training with Starhawk and Charles Williams, his Advanced Permaculture Teacher's Training with Jude Hobbs of Cascadia Permaculture, The Way of Council Level I Facilitation by the Ojai Foundation with Lori Austein and 'In The Bones' Lifestyle Coaching Training from The Coaches Training Institute of San Rafel California. Brock also holds the honor of being the Firekeeper of the Sacred Sweatlodge at O.U.R. Ecovillage. A graduate of Pitman Business College in Business Administration, Business Accounting and Desktop Publishing and Graphic Design, he wrote and designed the Database Course Curriculum for the College. A graduate of Corporate Communications Technologies in Business Promotion, Marketing, Database Development and Administration and further training in Desktop Publishing and Graphic Design. Brock does the Communications, website and facebook work for O.U.R. Ecovillage.
A Spiritual Warrior walking the Red Road of the Shamanic Journey.. with a Celtic heritage and non-status Anishinabe – Oji-Cree Nishnawbe-Aski Nation. Given name of LittleOwL his Totem Spirit Guide is the Owl.. A Free Fire Spirit of The Thunderbird Clan.. Brock is an Earth Steward, Ethical and Spiritual Permacultualist.
Guest Presenters in no particular order Brandy, Estal, Anthony, Gord, Ann, Jess, Brandon, Ian, Keelin(sp) Pat Hennebery:
Gord Baird was raised the youngest of five children, where he spent many hours playing in a semi-rural area of Victoria. As a teenager he was introduced to canoeing and kayaking and became hooked on exploring his spectacular West coast surroundings. Originally drawn to a business degree, Gord corrected his course and instead graduated Simon Fraser University with a Bachelor's degree in experimental psychology. Rather than continue with a Master's degree Gord fell into the family auto body repair business. It was here that he practiced valuing and balancing ethics and the environment with profit.
Today Gord uses his hands creatively in building everything from homes, gardens, and jewelry. He maintains that his greatest challenge is to live and lead by example, to teach his children that it is OK to step away from a culture marketing self-importance and consumerism.
Brandon Bauer has been studying Permaculture for 16 years and is actively applying Permaculture on various sites on Salt Spring Island and abroad. Over the last 8 years he has participated in teaching Permaculture Design courses at O.U.R. Ecovillage, The Bullock Brother's Permaculture Homestead, UBC and at The Blue Raven Farm. He is a naturalist, organic farmer, biodiversity specialist, seed saver, herbalist, and soil scientist. He is the co-creator of The Blue Raven Permaculture Farm on Salt Spring Island. He is currently working with Salt Spring Seeds and Anderson Greenplan. Like Bill Mollison Brandon believes "we are only limited by information and our imagination". Brandon sees permaculture as one of the most inspiring and action focused ways to live. He continues to practice what he teaches farming on Salt Spring Island, supporting local food and enjoying many lakes of the island with his family.
Brandy Gallagher – With a deep compassion for people and place, Brandy is naturally drawn and adept to working with and within communities. She is dedicated to furthering the regulatory and legal development of legitimate models of land use, alternative building, socially responsible financing, food security practices, ownership, and governance, while aiding others in finding their way through such challenging areas. As one of the main proponents behind the Canadian precedent setting rezoning and with her work in sustainable land management planning and ecological design, Brandy has helped manifest multi-use allowances for ecovillages and shared land projects that encompass a framework of legal, political, and community integration.
Brandy is O.U.R. Ecovillage Co-founder and Developer, O.U.R. Community Association Executive Director, O.U.R. Ecovillage Cooperative Founding Member, Sustainable Communities Teacher and Consultant, Mother, Resident, TOPIA: The Sustainable Learning Community Institute Developer.
Geoff Johnson is a permaculture pioneer in the Victoria area. Educated through the Bullocks Brother's Homestead on Orcas Island and Linnea Farm's intensive agricultural program Geoff has built upon his education through experience. Interning at the Bullock Brothers provided a foundation for Geoff to organize and spearhead Victoria's premier food forest – Spring Ridge Commons. He operates Cornacopia Nursery providing hard to find perennial plants, consults on food focused designs and farms the 1560 Urban Homestead. He teaches Urban Homesteading and helps infant food forests reach maturity in the lower Vancouver Island area. Called "the Victoria godfather of permaculture" Geoff humbly declines all "offers he can't refuse"
Sounds great! How do I register?
The cost of the course including meals and accommodations is $1600. Register early online by filling out theand clicking the big green button below as this course fills up quickly.
If you are working with a Transition Town planning team, part of a 'do good' community project, or are a staff/major volunteer at an educational or environmental Non-Profit – then talk to us about a preferential tuition.
If you have already completed this or a comparable training, consider the Advanced Permaculture Course in Teaching.
———————
I completed a two week permaculture course at O.U.R. Ecovillage in August, 2009, and I found it to be both an enlightening and a grounding experience. I am currently studying to become a doctor of naturopathic medicine, and it struck me how the principles of permaculture could equally well me applied to our bodies as to our Earth. Taking the course helped me to expand my understanding of that "health" actually means by widening my horizons outside of just the health of the individual or the household to encompass all the living aspects of the land on which we live. It struck me that we are so willing to spend thousands of dollars on our health, but what about our environment? We can only be as healthy as the land on which we live and the food which builds our cells, so we need to tread tenderly. This course helped me to form a concrete understanding of how to do that. I came away feeling both inspired and empowered to change the world, one plot of land at a time!

The immersed learning environment of the Ecovillage had a profound effect on the success of this course, whereby all the students ate, drank, showered, slept, rested, played, studied and worked on-site in a community setting. The Ecovillage is such a serene and delicious place to spend your time, and it illustrates a living example of the principles of permaculture from composting toilets, to expansive gardens, to solar showers to cob structures. My experience at O.U.R. Ecovillage this summer enriched and expanded my horizons and I would take another course or just spend some time at the Ecovillage again in a heartbeat. I highly recommend this course and this site to any person of any age or race without hesitation or conditions. – Sarah Berrett, BSc, ND (Cand) 2009

Registration Options

orm Space: This includes indoor shared dorm space with bed linens and bed and your meals are provided.

Indoor Camping: This includes an indoor shared dorm space that you would need to bring your own bed roll, towels and bedding and your meals are provided.

Offsite: Provides excellent course instruction and an amazing immersed learning environment, no meals or accommodations are provided.

Regular: Includes outdoor camping, (bring your own tent, bed roll, towels & bedding) and all meals.
Bookings