2015 Spring Youth Convergence
Posted on: April 25, 2015
Map Unavailable
Date/Time
Date(s) - 25/04/2015 - 26/04/2015
All Day
Categories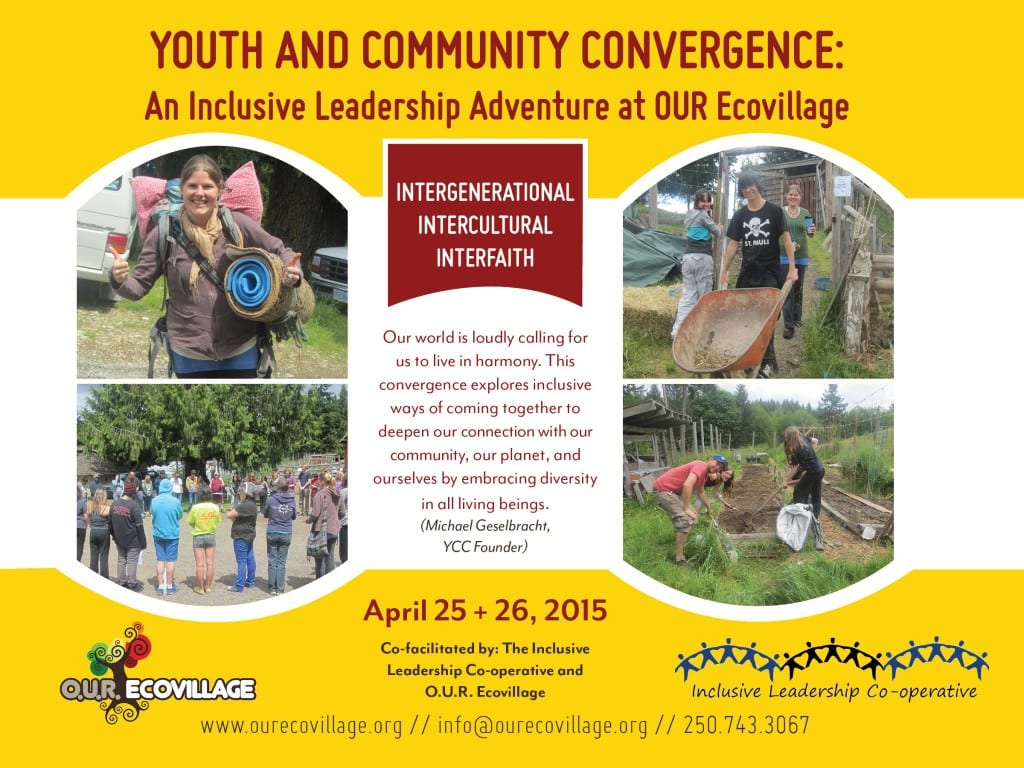 We are thrilled to be hosting OUR 2015 Youth Convergence with co-facilitation by The Inclusive Leadership Co-Operative. This two-day event will be a fantastic interfaith, intergenerational, and intercultural event taking place at our 25 acre natural building, permaculture, and ecological living education site. Join us with a friend or bring your entire high school class; this event has plenty of uplifting, inspirational, and youth-centred programming on the schedule.
For: Youth (aged 12 to 30) from diverse backgrounds, Supporters and Mentors of youth, and everyone who cares about youth and adults working together to change the world.
Possible Topics: Permaculture, natural building, connecting with nature, compassionate communication, anti-discrimination first aid, meaning making, finding passion in your path, soul collage, revolutionary music, liberated theatre, playing for peace, the international Earth Charter and much, much, more
Activities:
• Share leadership in co-creating and welcoming an inclusive culture
• Learn through experiential education: Hands on, creative-arts, and challenge-by-choice workshops indoor and outdoor activities.
• Participants are invited to offer workshops
• Heart to Heart discussion groups
• An Inclusive Community Celebration .
• Action Planning
Food: We strive to provide healthy, local, GMO-free and organic meals as much as possible.
This year OUR Youth and Community Convergence is happy to be able to support and collaborate with the "Young Adult Quakers with support from Canadian Quakers" as we bring together components of OUR YCC with the YOUTH AND MILITARISM; A Cross Canada Conference. Many activities and workshops will cross pollinate and mutually support the positive community building and leadership environment of this inspirational and inclusive weekend!
To confirm your registration, inquire about large group bookings, or ask any questions, please contact the office by phone (250.743.3067) or email info@ourecovillage.org