Date/Time
Date(s) - Aug 13 - Aug 24
12:00 am
Location
OUR Ecovillage
Who
For ages 6 – 11
When
August 13 – 17 and August 20 – 24, 9:00 am – 5:00 pm
*This camp has been designed as a 2 week camp even though it's possible to enroll for just one week.
*Coinciding with the 2 week residential Earth Activist Training with Starhawk to support parent's participation in that program.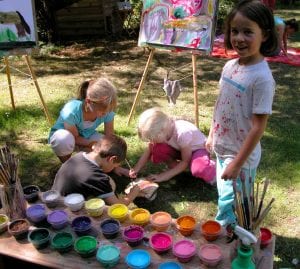 Why
At Wild Arts, in everything we do, we believe every child is brilliant, gorgeous, talented and fabulous. We believe in nourishing their already unlimited capacity.
By engaging kids to explore and stretch their intuitive and creative power, they experience increased joy, confidence, self trust and freedom of expression.
What
This fortunate group of kids will bond as a tribe. Curious observation of their natural surroundings, resources, their own ideas – and those of the tribe, will guide them to cooperatively envision and build their own world – the way THEY want it to be. They will respectfully forage resources from the forest and larger communities of the Eco Village and home to create their own village.
Intuitive creative play will help kids find their authentic expression and the roles they want to explore within the context of bringing this village to life. Throughout the 2 weeks we'll be doing painting, drawing, building, bouncing, dancing, LARPing (Live Action Role Playing), costume and mask making, ceramics, printmaking, Jedi training, pattern making and temporary tattoos, medicine making, game playing and more. They will create their own currency and rules (with a little guidance when needed.)
We'll also have a Wild Pups Action project happening (Wild Pups are a group of passionate kids who creatively help the environment and animals in need.) These projects give kids a platform to voice what they believe about the decisions to be made that shape our world.
The Instructors
Founder of Wild Arts and lifelong student and champion of the creative process, Fiona Percy and helpers will be leading this camp.
Value
$225 per child, per week, includes lunch.
Register by contacting Wild Arts
More Why:
"Creativity is not a feel good, optional quality to cultivate, but our greatest untapped resource that is truly needed in this radically shifting time." Cynthia Morris
"To be yourself in a world that is constantly trying to make you something else, is the greatest accomplishment." Ralph Waldo Emerson
Orville Wright didn't have a pilot's license ☺