...where you will meet "cob fathers" and "cob mothers" and gather with other folks who love natural building!
November 27th to 29th, 2020
We are inviting the natural building community and friends to a fully immersive three days of learning, honouring, sharing and celebrating!
The Advancing Natural Building Colloquium is an online gathering of natural building enthusiasts: builders, teachers, professionals, and those who are passionate about natural building. It is a place to exchange the latest developments in practical applications and technology and share ideas with other people in the field. We will look at where the natural building movement stands in regards to professional support, permits, and finding qualified builders.
OUR "Lawful Permaculture" Demonstration Site & Education Centre is an immersion of a wide range of natural buildings that are cob, straw bale, rammed earth, earthship/tire, living roofs, or rubble trench foundations and are all permitted and engineered. Whether you are a green builder, regulatory official, designer, or home owner/builder, this (un)conference will open the doors for whole new ways of understanding ecological design and building.
This is NOT a workshop. We will gather for panels, and presentations with one another with social time. We also plan on sharing our own stories as well as honouring the elders in the natural building movement.
Presenters, Authors and Teachers:
If you are interested in offering a 30 min presentation please email us with your proposed topic and a little background about yourself. We will offer special rates to our presenters.
Topics should relate to Natural building: Permitting, Engineering, Technique, Development, History, Future of Natural Building, Connected Systems, Issues, Problems and Solutions and other related topics.
Authors: Are invited to set up their book sales station and bring their publications.
Teachers: Share your upcoming workshops at an Information table/station. Bring flyers/posters.
Please email us with your proposed topic and a little background about yourself.
Mark (Mocean) Michaelson Lakeman
Board Director
Mark is a national leader in the development of sustainable public places. In the last decade he has directed, facilitated, or inspired designs for more than three hundred new community-generated public places in Portland, Oregon alone.
Through his leadership in Communitecture, Inc., and it's various affiliates such as the The City Repair Project (501(c)3), The Village Building Convergence, and the Planet Repair Institute, he has also been instrumental in the development of dozens of participatory organizations and urban permaculture design projects across the United States and Canada. Mark works with governmental leaders, community organizations, and educational institutions in many diverse communities.
The Mudgirls
Natural Building Collective
Building a Revolution: More than a decade of non-hierarchy consensus based decision making and small scale grass roots governance. Natural building too.
The Mudgirls is an all-women's natural building collective from coastal British Columbia. They build houses and offer workshops that empower people to take back the right to provide themselves with shelter. They taught themselves everything they needed to know to build houses using the most abundant material on earth – mud. They learnt as they went, learnt to build by building, gathered skills and allies, and shared whatever they learned with as many people as wanted to come & do it with them.
The Mudgirls have been together for over 10 years; meeting new people, forging new paths, and spreading skills and knowledge in a joyful way is the very fuel that feeds the fire.
How do you make a movement sustainable; keep it alive and thriving? It seems like the Mudgirls have learned that, too, along the way, and now it's time to share it.
Gord Baird
Co-owner/designer/creator of the Highland homestead Eco-Sense
Eco-Sense, as they call their homestead, has become internationally recognized as one of the most sustainable homes on the planet, being the first to earn Living Building Challenge recognition in 2010. The two story load bearing cob home incorporates living roofs, rainwater collection, grey water systems, compost toilets, solar PV for electricity, solar thermal for hot water, and a regenerated a damaged landscape that now provides 100% of their fruits and veggies all year round… all from on top of the rock. Their home has been the focus of over 200 media publications from TV, documentaries, radio, and magazines, multiple master's theses, and as one of the year long features in the Royal BC Museum's Free Spirit exhibition. 
Gord's formal education is experimental (neural) psychology and business (accounting). His practical education has derived from just doing it. From electrical, mechanical, construction, horticultural, and sanitation. 
Gord wears many hats: 
The President of the BC Fruit Tester's Association 

Co-owner of the Eco-Sense Nursery specializing in food forestry 

Accredited Potable Rainwater designer and installer 

Vice Chair for the CRD Regional Water Supply 

Commissioner for JDF Water Distribution Commission 

Former technical editor for the Province of BC's Ministry of Health's regulations on composting toilets and greywater systems 

Co-Author (along with Ann) of the book

Essential Composting Toilets 

Municipal Councillor for the District of Highlands (along with his wife Ann) 

Consultant on water policy 
He approaches every project with an integrated perspective of food, water, shelter and sustainability. 
Mark Fleischhaker, P.Eng.
Structural Engineer
Mark focuses on supporting projects that are truly trying to have positive impacts on planet, people and spirit – including natural buildings, small living spaces, high energy performance buildings, sustainable agriculture structures, and off-grid dwellings.
Mark has been engineering for over 10 years, always with sustainability at heart. He used to structurally engineer with a consultancy on larger scale, sustainably-principled projects throughout Western Canada. With Metaphsystations over the last 5 years, he has been doubling-down on helping clients do their best. He is also care-taker of the Darfield Earthship.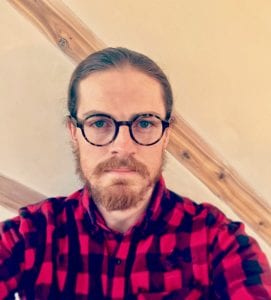 Anthony Spick, Senior Associate, P.Eng., LEED AP
Blackwell Structural Engineers
Anthony is a structural engineer in Blackwell's Victoria office with 19+ years of experience. He has been fortunate enough to work on a variety of natural building projects with a bunch of wonderful people.
In addition to natural building structure, Anthony's interests and expertise include sustainable design practice, unconventional structural systems and materials, and shell structures.
Anthony has also taught architecture and sustainable design-build students at the University of Toronto and Fleming College, contributed to some academic design-build publications and papers with much smarter people than himself, and received a few gold stars including an award of excellence from the Consulting Engineers of Canada.
Chris Magwood
Chris Magwood is obsessed with helping reverse climate change by making carbon-storing buildings that are also healthy, beautiful, efficient and inspiring.
Chris is currently the executive director of The Endeavour Centre, a not-for-profit sustainable building school in Peterborough, Ontario. The school runs a full-time certificate programs – Sustainable Building and Design – and hosts dozens of hands-on workshops annually.
In 2019, he helped to establish Builders for Climate Action, which will be rolling out a set of tools and policy options to help governments, designers and builders reverse climate change with their buildings.
Chris has authored seven books on sustainable building, including Essential Sustainable Home Design (2017). He is co-editor of the Sustainable Building Essentials series from New Society Publishers, and recently, he contributed a chapter to the book The New Carbon Architecture.
In 1998 he co-founded Camel's Back Construction, and over eight years helped to design and/or build more than 30 homes and commercial buildings, mostly with straw bales and often with renewable energy systems.
Chris has completed an MA at Trent University. His thesis,
Opportunities for Carbon Removal and Storage in Building Materials which was published in the fall of 2019.
Chris is an active speaker and workshop instructor in Canada and internationally.
Ben Garratt of Tiny Healthy Homes
Ben Garratt of Tiny Healthy Homes has found his niche by combining the principles of Permaculture, Natural building and regular construction to create beautiful healthy homes. He will be bringing his latest Tiny house to the Colloqium en-route to its new home.
Full Weekend: Friday, Nov 27th to Sunday, Nov 29th
November 27th at 7:00pm to Sunday,  November 29th at 5:00pm
Regular $245 plus taxes.
Evening Only: Friday, November 27th
November 27th at 7:00pm-10:30pm
Single Day: Saturday, November 28th
November 28th 9:00am-10:30pm
Single Night: Saturday, November 28th
November 28th 6:00pm-10:30pm
Regular $58 plus taxes
Single Day: Sunday, November 29th 
November 29th 9:00am-5:00pm
Regular $98 plus taxes
OUR Ecovillage
OUR Ecovillage is a demonstration site for permaculture and sustainable living. OUR buildings show a variety of natural building methods and designs. We have worked with regulatory processes and professionals to receive permits for all of our buildings and to blaze the path of legal natural building for others. One example is OUR re-zoning project, which has allowed other groups to follow our demonstration project with similar ambitions.