Permaculture Teacher Training
This event has been postponed until further notice.
Empower yourself to advocate for change through whole systems teaching and design. In this dynamic and interactive course, you will learn significant teaching techniques to communicate and apply Permaculture (Pc) principles and strategies to a wide variety of audiences and educational settings.
Our goal is to encourage and inspire your unique strengths and abilities by demonstrating diverse teaching modalities including effective use of lecture, storytelling, class discussions, interactive experiential activities, visual aids and hands-on skills.
As a group we facilitate a safe setting of active learning, building confidence by experiencing essential practice via preparing and co-teaching multiple presentations.
Sharing information is Regenerative ~ Be Part of the Permaculture Solution
This is an incredible opportunity to study with a master teacher, on how to teach permaculture. To be eligible to register for the course you will have taken a Permaculture Design Certificate course, or have the instructor's approval. Note this course is scheduled during the public school Spring Break in order to facilitate school teachers being able to access permaculture design education as part of their professional development.
About the Course
This Certificate Course is offered by the Cascadia Permaculture Institute and is now certified by the Permaculture Institute of North America.
Advanced Permaculture Courses in Teaching:
Jude has taught this course almost thirty times and it is never the same way twice. As proactive educators, we are constantly adjusting the way a workshop or course is presented… creating innovative experiences that address varied learning styles while moving from theory to practice.
Who is this course for?
Community activists, designers, homesteaders and anyone who wishes to share the knowledge of systems thinking and integrated self-reliant living strategies

Professional teachers who wish to expand and fine-tune their Permaculture knowledge

Permaculture Design Course Graduates
What will you learn?
The awareness of how adults learn

To assess your personal assets

Tools to teach what you know
What you can expect from this course?
Skill-building with a focus on goals you wish to accomplish

Enhancing your abilities toward critical thinking

Asking important questions: What are your intentions and goals as an educator? How teaching serves you and others?

Understanding how goal setting generates learning outcomes which evolve to content

Keeping participants engaged through changing the conventional paradigm of teaching

Community building: this includes transformational learning, the co-creativity model and more teaching strategies

Creating the awareness of teaching about design and the relevancy of practical design application
Learning Interactions
Applying documentation through note taking & journaling.

Building a vocabulary of learning modalities, such as; shifting from passive to active learning, visual, auditory, kinesthetic learning, the eight intelligences, transformational learning, and using resources from researchers who have articulated how people best learn.

Recognizing your learning styles and how this impacts your ways of teaching.

Observing how people best learn through their experiences with teaching styles.

Practicing the Art of Facilitation: From deep listening to timeliness to working with challenges in the educational setting.
What are the course activities?
Presenting three teaching modules as a way to practice and build self-confidence.

Offer and receive supportive respectful critiques of these presentations, enhancing the opportunity to Adapt and Advance your skills with timing and delivery.

Encouraging you to identify your unique personal teaching style(s), what is your 'shtick'?

Teach Pc Creatively by 'edutainment' (education and entertainment)

Presenting a final group project to the public: An Introduction to Permaculture: A Workshop on

Ecological Design (or whatever the class chooses as a workshop title)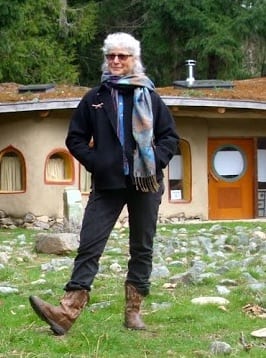 Jude Hobbs
Jude is an internationally recognized permaculturist with 35 years' experience in the design and teaching fields. She utilizes whole-system design techniques providing environmentally sound solutions in urban and rural settings which promotes sustainable actions.
Through her business, Ago-Ecology Northwest, Jude specializes in encouraging farm management practices for optimizing resource conservation, biodiversity, watershed enhancement and income diversification.
As an educator she conveys her passion for permaculture by providing curricula developed to encompass diverse learning styles with teaching techniques that are accessible, inspiring and information rich. Her courses offer a safe place for learning, the strategies to understand whole systems design and the confidence to get out there to do awesome work via a tool kit for action.
Jude's intention is to empower people to change their everyday patterns so as to care for the earth and each other. As a co-founder of the Permaculture Institute of North America (PINA) and Cascadia Permaculture Institute (CPI) she actively supports the next generation of permaculturists through continuing education and professional development.
Previous Attendees Testimonials
This course provides more than just a foundation for teaching permaculture. It is very motivational and inspirational. Highly effective with pointed content, I needed this! R.S.
This course is at the same time humbling and empowering.  Great for anyone interested in sharing knowledge in whatever context. A.S.
Jude brings a wealth of knowledge and experience to the room and imparts it with style and grace. B.G.
A great way to build an in-depth knowledge of how to teach workshops and courses, and meet people to collaborate with. Jude creates a course that finds the perfect balance between creating a safe comfortable learning environment and a place to push your comfort zone and to grow. J.D.
Jude has such a plethora of knowledge… I would encourage anyone with a PDC to check it out skills for teaching for our future well-being. We need more teachers in the world and frankly I can't imagine a more well-rounded easily absorbed of course than this one. M.S.
Jude's experience really shown through during this course. It seemed every part of the curriculum has been carefully tweaked over the years to create loop learning opportunities while inspiring students to become creative and thoughtful educators. A.C
If you believe in permaculture as an antidote for many of the world's woes, this course is a great opportunity to join the teachers thereof. A brilliant opportunity to train to be an agent for the betterment of the earth, life, society and community. P.S.
Valuable for building confidence in designing and delivering learning modules. Great tips in getting started as an educator. Great for general education, not only for permaculture techniques. This is a very valuable course, I loved it! J.P.
A course on the art of teaching is in-depth course on teaching methodologies B.D.
CANCELLATION POLICY
a) Accommodations
For cancellation with more than 5 days notice, guests will be fully refunded unless if during courses & events and then same as b) below.
For cancellations with less than 5 days notice, the first night will be charged at 100% and the remaining nights at 50%.
b) Courses, Events and all other Services
For cancellation with more than 30 days notice, guest will be fully refunded.
For cancellations with more than 21 days notice, guest will be 50% refunded.
For cancellations with less than 21 days notice, guest will be charged full amount.
View FULL CANCELLATION POLICY, waiver of liability, and house rules.