Charles Eisenstein:
October 25th
7:00pm-9:00pm*
OUR Ecovillage
Re-Villaging; A New Story of Community

Dinner before the talk will begin at 5:30pm
Aftergathering and Appys from 9:00pm onwards
Charles Eisenstein brings us his ongoing way of seeing a New Story to OUR Ecovillage in this intimate evening — a deep dive into what 'community' truly can be.  From the "Beautiful World which Our Hearts Know is Possible" to the "Sacred Economics" framework for living; Charles has been a main midwife for The Gift Economy and an inspiration for us telling A New Story.
Join this smaller space of personal and heartfelt conversation to co-create the possibilities of how we might choose to live; personally and collectively, towards a different future.  Charles will also be bringing through his new book tour for "Climate – A New Story": (2018) – and will have copies for personally autographing when purchased at the event!
Price: Ticket price of the event will function under the 'Gift Economy', and all funds will be going directly to Charles. 
"Gift Economy" means that the price is self-determined. Pay the amount that reflects your feeling of value, gratitude, and desire to support his work, consistent with your financial means. 
In order to reserve your place please make any amount of donation at the link below. 
PLEASE WRITE IN THE DONATION NOTES: CHARLES EISENSTEIN as this is a multiple stream Paypal account and this is important for us to ensure we know what the donation was for!
One ticket will be reserved under your name per donation made.
We will also be having a buffet style dinner before this event in our Zero Mile Eatery featuring food from OUR Organic Permaculture farm, as well as an aftergathering with appetizers and a no-host bar for those who want to further the conversation and celebration in community. 
Dinner: 5:30 / After-gathering 9:00pm
ALSO AVAILABLE VIA LIVESTREAM!: 
Can't join us in person? We'll be hosting a pay-what-you-can digital ticket of this event via Stream of Consciousness. 
DIGITAL tickets & details are here!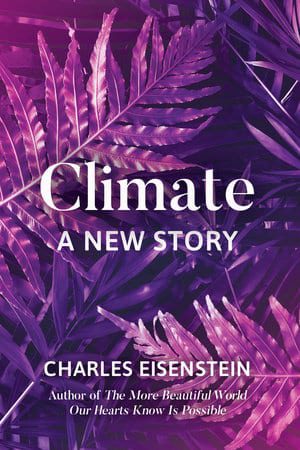 "Flipping the script on climate change, Eisenstein makes a case for a wholesale reimagining of the framing, tactics, and goals we employ in our journey to heal from ecological destruction.
With research and insight, Charles Eisenstein details how the quantification of the natural world leads to a lack of integration and our "fight" mentality. With an entire chapter unpacking the climate change denier's point of view, he advocates for expanding our exclusive focus on carbon emissions to see the broader picture beyond our short-sighted and incomplete approach. The rivers, forests, and creatures of the natural and material world are sacred and valuable in their own right, not simply for carbon credits or preventing the extinction of one species versus another. After all, when you ask someone why they first became an environmentalist, they're likely to point to the river they played in, the ocean they visited, the wild animals they observed, or the trees they climbed when they were a kid. This refocusing away from impending catastrophe and our inevitable doom cultivates meaningful emotional and psychological connections and provides real, actionable steps to caring for the earth. Freeing ourselves from a war mentality and seeing the bigger picture of how everything from prison reform to saving the whales can contribute to our planetary ecological health, we resist reflexive postures of solution and blame and reach toward the deep place where commitment lives."
CHARLES EISENSTEIN is a speaker and writer focusing on themes of human culture and identity. He is the author of several books, most recently Sacred Economics and The More Beautiful World our Hearts Know is Possible. His background includes a degree in mathematics and philosophy from Yale, a decade in Taiwan as a translator, and stints as a college instructor, a yoga teacher, and a construction worker. He currently writes and speaks full-time. He lives in Asheville, North Carolina with his wife and four children.