2018 Ecovillage Design Education (EDE)
Posted on: April 27, 2018
Map Unavailable
Date/Time
Date(s) - 27/04/2018 - 02/06/2018
7:00 pm - 12:30 pm
Categories
5 weeks comprehensive training
April 27th – June 2nd, 2018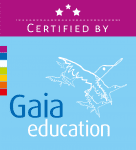 Inspiration and training for being a response-able catalyst for regeneration
Special Offer:
The Only Place in the World to Get
PDC/EAT and EDE Certifications in one course!
Vision:
Designing communities and ecovillages as 'living community centres' and as adaptation models for climate change and social justice in a new global paradigm.
Schedule:
April 27 – May 13

Permaculture Design Course and Earth Activist Training
Certificate (PDC/EAT)

click here

May 14 – May 16

Personal integration time, connecting with community,
individual meditation and spiritual work

May 17 – June 2

Integrated, participatory community-building leadership

This 5-week Ecovillage Design Education(EDE) programme includes the entire curriculum of the Permaculture Design Certificate (PDC) and Earth Activist Training (EAT) in the first 17 days with Starhawk and Charles Williams, which will be followed by 17 days of curriculum to complete the EDE. The second phase will be led by O.U.R. Ecovillage founder Brandy Gallagher who is an ecovillage designer specializing on legal and regulatory processes, policy framework, and therapeutic community development.
What is EDE?
The Ecovillage Design Education curriculum was an official contribution to the United Nations Decade of Education for Sustainable Development 2005-2014, and is ratified as part of the Global Ecovillage Network and is given full Certification through GAIA Education International.
Course Description and Content:
The EDE syllabus encompasses the "three legs of the stool" of Environment, Economy, and Social, and adds the "Fourth Dimension" of "Worldview" which allows us to explore the more 'invisible structures' of how we personally and culturally create the landscape of our human ecologies, and brings forth the New Story that is trying to emerge at this time.
The framework for the curriculum is the sustainability wheel developed by GAIA Education, which represents the four primary dimensions of human experience – Worldview, Ecological, Social and Economic aspects:
The curriculum is designed for the place where it is offered. We have a programme for this course that was custom made for OUR Ecovillage by world-class curriculum designers, who will be with you in person to facilitate the course.
To view EDE learning outcomes click here
To study the EDE curriculum further, click here
What is OUR EDE Teaching Methods and Intention?
This course is designed and facilitated as an immersed learning experience. We will be creating space to meet ourselves and each other in lectures, discussions, exercises, games, videos, slide shows, field trips, hands-on activities, design exercises and a final design project.
The programme will run all day, with evening sessions about two thirds of the time. There will be time for movement throughout the day, as well as free time to be by yourself and to socialise, including a daily siesta time after lunch; to research in the library and online; days off for rest and integration, and a slow start on Sundays.
The second half of the program is designed for you to move into an intimate, participatory and relatively small learning community. You will collaborate and practice co-leadership with fellow learners, from curriculum scheduling to collective design projects. This teaching methodology embodies the "forming, storming, norming, performing" stages of all community building process that M. Scott Perk elaborated in his book "Different Drum; Community Making and Peace" as an experiential learning opportunity.

The intention is to support you in deepening your understanding and practice of the art of regenerative design, becoming a pro-active village building ambassador of what is possible. We will examine the underlying assumptions of the current culture of consumerism and economic globalization, and encourage exploration of ways to contribute to the emergence of a culture of sustainability, compassion and equity.

What topics/themes will be covered?
Innovative tools and models to transform existing social paradigms, including movement towards a more regenerative worldview & practice

Nature connection & literacy

Social tools for personal transformation, empowerment and leadership & Ecological Activism

Restorative Health: personal, planetary & their inter-connections

Group and process facilitation, participatory decision making

Community building, Non-Violent Communication and conflict resolution

Permaculture ethics, principles, tools, & strategies

Green building, renewable energy, and alternative wastewater treatment

Alternative economic models and social enterprise

Dragon Dreaming and other project management tools

An artistic approach to life incorporating inclusive spirituality

Climate change and regenerative bioregional responses

Applying design and implementation skills to real life projects
Weeks 1 and 2 (April 27 – May 13) of the EDE programme
The Permaculture Design Certificate and the Earth Activist Training (PDC/EAT) 

72 hours over 17 days and evening
The Permaculture Design Certificate and Earth Activist Training (PDC/EAT) is the first half of the EDE course. The PDC covers a broad range of subjects to provide a holistic overview of permaculture systems and sustainable living. Through the programme, participants will extend the principles and insights of permaculture into progressive political organizing, and explore strategies for change; and will weave in threads of inclusive and non-dogmatic earth-based spirituality, to connect heart and soul to the work. To learn more detail of the PDC/EAT curriculum, click here


Week 3 to 5 (May 17- Jun 2) second half of the EDE Programme
Integrated, participatory community-building leadership*

After 2 weeks of solid grounding in the biophysical and social aspects of the design process in the PDC/EAT, you will further the learning by contextualizing all four dimensions of human experience in the "sustainability wheel" (Worldview, Ecological, Social and Economic)developed by GAIA Education, into your own community framework/project focus. You will practice co-leadership with fellow learners in a participatory, collaborative, small learning community. You will be co-creating interests-focused learning experience in field-trips, lectures, discussions and design studio. This learning community will be your resource during and after the programme to guide and inspire your path forward as a response-able community member.  
All participants will be both learners and teachers. You will step behind-the-scene to integrate with OUR Ecovillage team and get first-hands learning experience in the management and logistic aspects of operating an ecovillage. This participatory model allows you to step outside the typical course structure, which can also lead to a possibility for you to design and propose a personalized extended ecovillage practicum.
*A required reading list will be sent out to participants 1 month before the programme begins.  
This EDE programme is for you if you are:
a change agent / facilitator of cultural capacity building for resilient and regenerative living

looking for University transfer level of credits to your home university

a professional working in the fields of climate change, transition town/city planning, sustainability metrics analysis, etc.

a community stakeholder who is invested in bringing together your rural or urban bio-regional project

someone who believes in designing solutions for transformational learning/living as the possibility to lead the world into the future we all hope for.

Wanting certificates for the EDE and PDC/EAT
Fee: $3850 (PDC/EAT + EDE from April 27-June 2, 2018)
Includes:
Meals: 3 meal per day for 34 days at the "Zero Mile Eatery"
Accommodations: 34 days of indoor or outdoor camping at OUR Ecovillage, use of outdoor and indoor showers, all common spaces
You can upgrade to stay in dorm with linens provided, or semi private room in the guest house. Check out the options available when you book online!  

If you have taken PDC previously, you can contact us to negotiate only taking the second half of the EDE!
Testimonial:
"OUR Ecovillage GAIA Ecovillage Design Course was so full and vibrant it's hard to really summarize that kind of learning. Social design was inherent in the process because as a group we had to come to an initial familiarization of each other, and then agreements in communication styles which we held each other accountable to."
"One of my main highlights and learning opportunities during my 5 week PDC/EDE this spring at O.U.R Ecovillage was a full immersion into community life while attending great lectures of a wide range of topics from economics to compost and seeing how they are all interrelated and interconnected."
creativity economics higher the performance higher the reward insentives motivation repetative rsanimate rudimentary