From OUR Kitchen Magicians: Vegan Caesar Dressing
admin
August 5, 2013
Uncategorised
0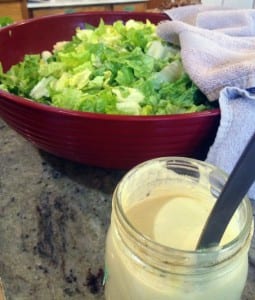 Caesar Salad is a favourite for all-ages, OUR Villagers included! Kitchen magician (and Red Seal chef) Ryan serves up this recipe for vegan Caesar salad dressing, similar in taste to the classic, without the anchovies, eggs, mayonnaise, or cheese common in so many other recipes.
For a family-size portion:
2 tsp. Dijon mustard
2–3 cloves garlic, minced (to taste)
the zest and juice of one lemon
¼ cup tahini
¼ cup of water to thin
2 tsp. Engevita (nutritional) yeast
Combine all ingredients in a bowl or Mason jar and mix to combine. Easy and delicious!
Make this recipe? We'd love to see the outcome and hear about any ways you altered the recipe to suit your tastes. Drop us an email with a suggestion or photo, and we'll add some of them to the bottom of this post.