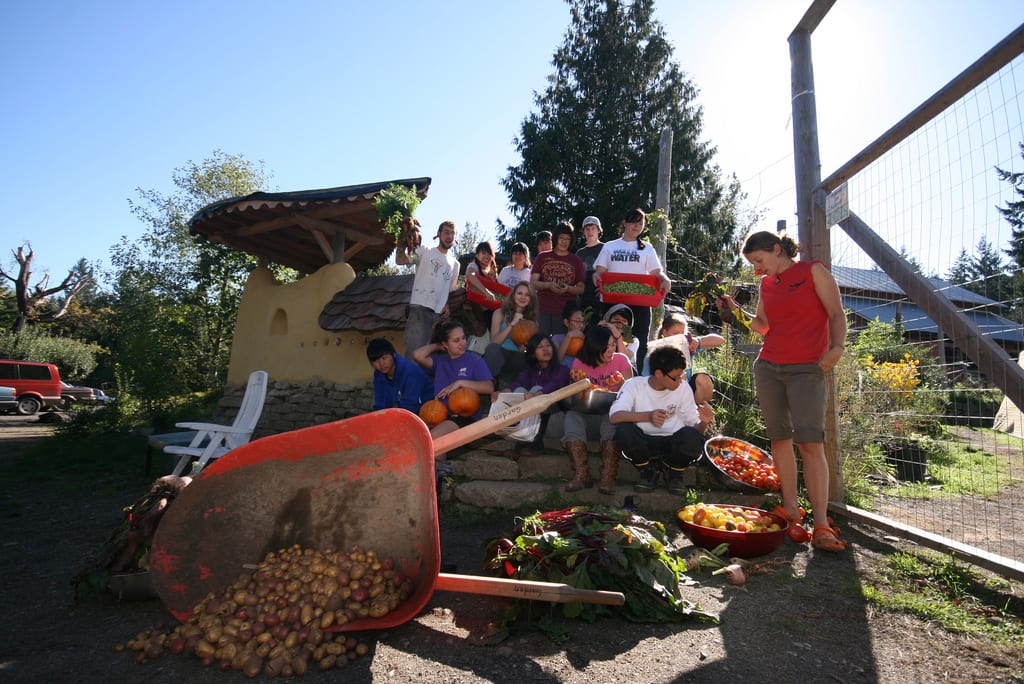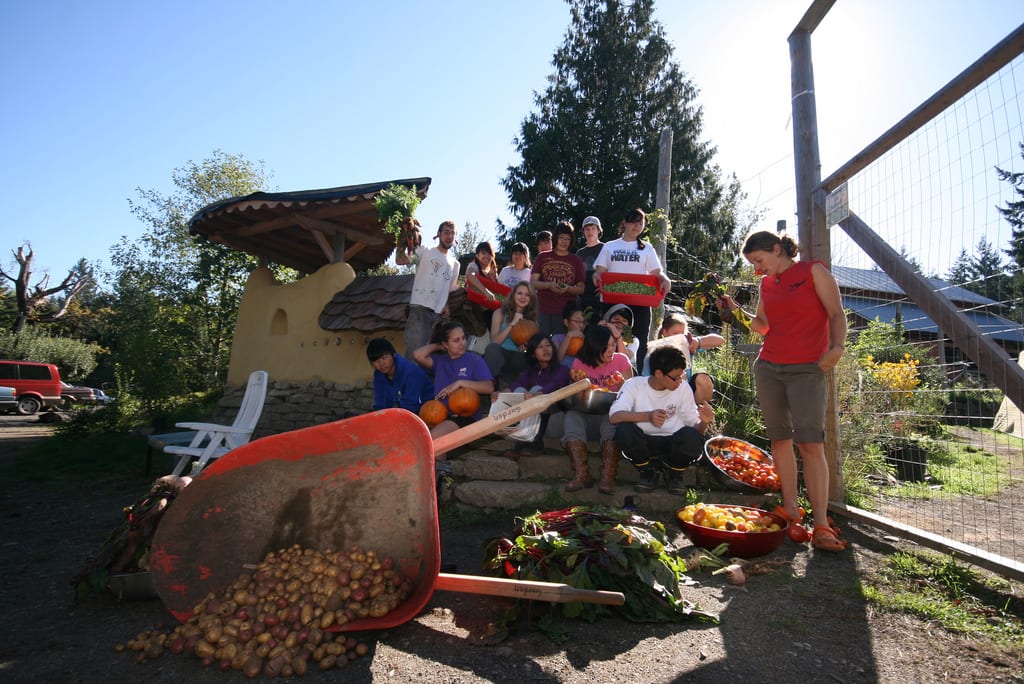 One of the key functions of OUR Ecovillage is to act as an education facility for sustainable living and food production, natural building, and permaculture. Each year over 10,000 people, many of them children and youth, interface with our community, taking knowledge and skills back to their communities, and along with it, the power to be part of OUR wider-reaching 'sustainable community…for change!'
The cost for one child to spend an entire day in OUR's immersed learning environment, discovering edible plants during a walk on the wild side, learning to build with cob and clay, discovering how to mitigate waste streams, and perhaps even help prepare a healthy, delicious, local-foods inspired meal is just $25 including lunch.
From university/college programs to youth training projects (such as Canada World Youth) to public/private schools–OUR team provides thousands of young learners a year a chance to have a truly unique and transformative learning experience. Unfortunately, until such education becomes part of the core curriculum in BC, these trips remain out of reach of some schools and each year we give in-kind tour and educational donations to many schools and children to make sure this important education is widely-available regardless of finances.
Now is your chance to give a child or youth the gift of sustainable education! Donations can be made in any 25$ increment to OUR Education Fund created in partnership with Volunteer Cowichan and Canada Helps. This partnership ensures you receive a tax receipt for all donations.
As part of OUR commitment to education, we are happy to offer discounted rates for larger groups. Individuals or corporations who are drawn to helping the maximum number of children per year are able to visit the Village might consider sponsoring 10 children/youth for $200 or an entire class for $500.
Donations can be made in your name or in the honor of another. Consider making a donation on behalf of a loved one as a gift—what better present than the gift of Earth-saving education? Donors wishing to take this route should choose the "Yes, as a gift in honour/on behalf of" option and then choose the "Request that the charity send a card by postal mail" option below that. This will notify us to send one of OUR beautifully-designed and hand-written cards to the recipient of your gift, letting them know about the important education you have helped to facilitate on their behalf.
Learn more about OUR educational programs, and watch a short video about education in the Village, here, and make a donation to OUR Education fund here.