Some of our frequently asked questions and their answers can be found here. Didn't find what you were looking for? Please feel free to get in touch.
What is the difference between making a donation to TLC and purchasing a traditional cemetery spot?When you purchase a traditional cemetery spot, you are reserving a specific space, in your name, in a location designed for the internment of bodies. Depending on the cemetery, your site fee, at least in North America, is likely to provide you with rights in perpetuity. In practical terms, you will be helping pay for the upkeep of the cemetery, paying for staff on site, and contributing to the running costs of the land. In the US, most cemeteries are state-mandated to put 10–20% of their sales into a care fund for upkeep in the future.
When you make a donation to TLC with the purpose of obtaining scattering rights, you are contributing to placing a protective land covenant on the entire 25 acre site of OUR Ecovillage. Your donation, which is fully tax deductible, helps us to purchase and protect the land of OUR Ecovillage, allowing it to continue its valuable work forever. Your Conservation Grounds Scattering rights are conferred as a thank you for donating, not as an outright purchase.  Because we are not a cemetary, as such, our overhead costs are negligible compared to those of a traditional cemetary. Because of this, more of your money goes directly to helping protect OUR Ecovillage and its work.
Why have you partnered with TLC?
As perhaps the best-known land conservation group in BC, TLC has nearly twenty years of experience in protecting over 50,600 hectares of land, habitat, and culturally-significant land in our province. OUR has partnered with them to facilitate the protection of OUR land though a conservation covenant. With their legal expertise and background, TLC is responsible for the covenant on the land and is also the body responsible for issuing charitable tax receipts to donors.
What happens if the O.U.R. land is sold or comes under different management?
Because the protective covenant belongs to the deed of the property, the protected wetlands area ashes are scattered in–and the rest of the property–remain protected from development in perpetuity.
Can my arrangements be altered or cancelled?
Contributions to TLC are charitable donations and are therefore non-refundable. In regards to cancellation of all other event services, 50% of the fee paid to O.U.R. Community Association (O.U.R.), which is required on the day arrangements are made, will not be refunded.
What happens when death occurs?
Your next of kin or representative should contact O.U.R.
Is the contribution I have made guaranteed against inflation?
Yes, the contribution to TLC will not be affected by inflation.
 Who provides the end-of-life celebration services?
Your contribution to TLC is not associated with end-of-life services. Arrangements may be made with ceremonialists of your choosing.
What happens if death occurs before I have made my contribution to TLC?
The outstanding contribution amount must be paid as a lump sum at the time of arranging the scattering. Otherwise O.U.R. is unable to provide the scattering of ashes on our grounds.
When will my certificate by issued?
A Commemorative Conservation Certificate, as proof of your contribution to TLC, is issued when your full donation has been received.
Will there be anything extra to pay before or at the time the scattering is performed?
There is an administrative fee of $150 that must be paid at the time arrangements are being made—to cover administrative costs and the scattering of cremated remains.
Who performs the scattering of the cremated remains?
To preserve the natural environment, personnel from O.U.R. will assist with the scattering process. You or your chosen ceremonialist should liaise with O.U.R. to make arrangements when the time comes. The cost of this is included with the $150 administrative fee.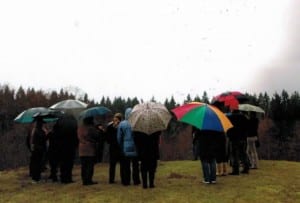 What sort of site maintenance will OUR carry out around the Scattering Grounds?
OUR Commemorative Conservation Grounds, outside of pathways, will be kept in a natural state. Maintenance crews will ensure that bridges are kept in a safe condition and ensure they are above water levels at all times. Branches will be trimmed only where they interfere with paths, and walkways will be kept clear of large debris to ensure the Grounds are available to people of the widest range of physical capabilities.
What is your visitor policy?
Visitors are permitted to visit OUR Commemorative Conservation Grounds during daylight hours, most everyday of the year (some holidays come into affect). All visitors and guests who want to walk the Grounds are asked to give prior notice and to check in at the office upon arrival. Guests must sign a "Waiver and Release of Liability, and Photographic Release" at our office. This protocol is in place so we are aware of who is on site at all times.
Individuals may not bring pets on the Grounds and are encouraged to park either in the parking lot just off Baldy Mountain Road or in the designated parking area in front of the Healing Sanctuary.
As the Scattering Grounds encompass a delicate ecosystem, visiting the immediate area around where a loved one's ashes are at rest is discouraged. Rather, people are encouraged to stay on pathways. However, if you do feel you must leave the designated walkways, we ask that you take special care to avoid stepping on plants, and request that, as much as possible, you travel on existing deer trails or other less sensitive areas. We also request that visitors carry a communication device with them in case they lose their bearings while on site.

Finally, we request you notify our office in advance if a ritual is being held, as certain ceremonial elements, such as loud music, may disturb the wildlife.
Are the Grounds wheelchair accessible?
Unfortunately, at this point in time the Grounds are not purposely maintained for wheelchair access, however there are not specific barriers to wheelchairs other than the uneven nature of the pathways.
What will the day of the scattering look like for family and loved ones on site?
Of course, each individual experience will vary and be customized to your unique wishes and requirements, but the below information gives a general sense of how a scattering might occur.
Families and loved ones arrive with the cremated remains in an urn at an agreed upon time, and are greeted by the coordinator in the Healing Sanctuary. Those taking part in the ceremony will either have been pre-directed by the departed as to where they would like their ashes to be scattered or buried; will have considered an area during the preliminary meeting prior to the day of the ceremony, or may make a decision as to location on the day the ceremony is performed.
In terms of the actual scattering, the following rite options exist:
A coordinator can perform the rite with the party watching.
The party can perform the rite under our guidance.
How much or how little individuals participate is complete up to them, and any combination of these proceedings can take place. However, in every case a coordinator is present. This is to ensure that the soil composition remains intact according to our conservation guidelines and principles, the ashes are going in the appropriate location, and that the flora and fauna is not disturbed in any way.
Do you keep a record of where ashes were scattered? Can I access that record?
While we keep internal records of the GPS coordinates of the placement of ashes, legally we are unable to provide this information to individuals and families for their own personal use. It is therefore our recommendation that individuals keep a mental or digital record of where ashes have been placed.
Can ashes be re-gathered following scattering?
Unfortunately, due to the nature of both the grounds and the scatterings themselves, re-gathering the cremated remains is not possible. Should people anticipate the need to revisit the ashes of their loved one at any given time, we encourage families to keep a small portion of the ashes for alternate placement.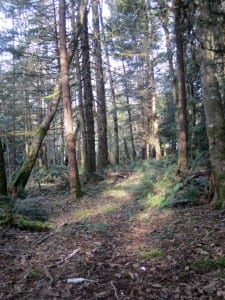 Are there are maximum number of spaces available in the Scattering Grounds?
Our grounds are not limited to a maximum capacity. Because of that, and also because we have no formalized plots, as such, it is possible that scattered ashes could fall on or in close vicinity to another person's cremated remains.
What burial and scattering techniques do you use?
Please see our detailed options on the cremation and scattering page, here.
Can I put up a permanent marker by the remains?
Creating permanent monuments to mark the space where ashes are placed is not permitted. However, burying or spreading ashes under a pre-existing man-made or natural formation is acceptable.
Included in the contributions to the TLC is the option to commemorate loved ones in the form of planting orchard or forest trees.