June 2017 Newsletter
Update from OUR ECOVILLAGE Cooperative
by Board Chair Brandy Gallagher
More than ever we are excited at the shifts and changes that this season has brought us!  As we round the Summer Solstice we celebrate and honour all of those who bring their incredible love and support to OUR Ecovillage Coop in order to keep our spirits buoyed and OUR hearts impassioned to keep the village going for all to access and participate in.
The largest shift for OUR Coop is the long awaited arrival of the homes for OUR HearthKeepers to live in!!  10 years after OUR Coop was incorporated ……we are fully able to legally, financially, and technically able to live in OUR individual family homes.  Though it is common for Co-housing projects and intentional communities are 5-8 years + for development, social agreements and financing to come together – OUR Ecovillage was indeed already on the road to obtain OUR precedent setting zoning, alternative building code allowances, and exceptions for all other technology systems being designed for OUR Demonstration Site and Education Centre.  All this being said the journey has been worth the learning in so many ways – and yet we are proud to be on the other side of the major hurdles and to rise to the challenge in ways that none of us really anticipated!  Heroes….each and every one!
Speaking of 'heroes'…..it is beyond amazing to have Elke back in her stride teaching and designing/working onsite.  She and CM returned from Africa to support health needs and access medical services and we are all sending tons of love to both as CM navigates the medical systems.  And – Elke is working with so many other amazing dream team folks; welcome in Bryce Gilroy-Scott (also of The Centre for Alternative Technology – Wales), Mike Geldreich (Power to the People Solar Modelling and Install), Ian Ralston (BC Waste Water Approving Officer) new BC Policy edited by Gord Baird, and brilliant builders….taking on the Housing Cluster as we "Close the Loop on Affordable Housing".  The whole team and Coop is working on a showcase to have affordable housing model being off-grid, recycling OUR wastewater, harvesting rainwater, alternative gassification for heating/hydronics, solar pumps, newly legal composting toilets, etc etc.  Stay tuned — tours have just gotten all the more exciting!!
Also – another group of Super Heroes taught OUR onsite "Ecovillage Design Education Certification: Sustainable Community for Our Collective Future"  (EDE).  As a 5 week course this was a resounding success and really brought together a level of amazing individuals, organizations and teachers from around the world.  With the main course facilitators being lead by Brandy Gallagher (OUR), Gracelynn Lau (OUR & Hong Kong), Jerry Kurtyka (Texas/USA).  With 9 folks in the program it was a journey extra-ordinaire and left a lasting feeling of depth and understanding of OUR Ecovillage's role in the Global Ecovillage Network (GEN) and international movement.  The journey was so powerful and feedback so great that we were asked to take on the Global Training of Trainers from GEN!!  We are looking forward to have some of the most amazing teachers May East – Findhorn Ecovillage (Scotland), 
Giovanni Ciarlo – 
Ecoaldea Huehuecoyotl
 (Mexico), other international folks who we all know and love!
Further to this OUR year has had outstanding University/College programs onsite, K-12 programs from schools (Private and public) and so many amazing learners in OUR own programs that the whole site has had a beauty facelift with only just a few of us co-facilitating the projects!  With out a doubt beauty and the sacred rein everywhere.  Please come for a tour, a meal, and a visit…..hopefully to visit with us as well as see all of the incredible craftings which have unfolded!.
As the season changes we also applaud OUR beloved Satiya as she moves on with next steps in her life full time on Saltspring Island!  After 4.5 years onsite and soooo much learning she is fully stepping into co-creating with her partner Carlos and their farm based 'community building' project….and becomes a full time step-mom!  So much love and good wishes to her journey…..and we invite you to a full out fun night of celebration in her final week as she rounds out her last day on 'staff' on the
Saturday
night celebration of Nheemasassa North (Zimbabwe Music Training Camp with Bopoma Music School).   Please come for a big celebration on
August 5th
for the evening (RSVP please to
info@ourecovillage.org
with the number in your party).
More projects and learning unfolds – come and 'build village culture' with OUR folks!
Upcoming Courses:
Ecological Building new movement: Just Bio-Fiber 3-weeks course in September!
This year we have chosen a construction method that we feel will take it's place in the green building movement in a whole new way!
Bio-Fibre building blocks are having a high level of ecological design opportunity and they are FAST!! OUR JustBioFibre Office is being created as a new build project and will have a foundation ready and waiting for this incredible opportunity to learn the perhaps one of the most low footprint/embodied energy, low carbon emission, innovative technology building methods we have seen for residential and commercial construction! These are like big Lego blocks (or at least they look like it!) and create a system which incorporates all needs for utilities straight into wall, which can be build in days.  With 'lime stabilized hemp fibre' (rather than high footprint concrete in the mix) the blocks are efficient and highly insulating.
Taught by Elke Cole, Bryce Gilroy-Scott, Jack Anderson, JBF construction specialists, this 3-weeks course will cover all aspects of natural building, including: ecological design, engineering, architecture and building design, energy modelling, permitting, community design and natural finishes. Registration is available online now, you can choose to enrol in all 3 weeks or the week most relevant to your area of interest. There is also 3 industry focused professional development days and public open houses on the weekends. Go to this course page  for the  detail schedule and online registration. We are excited to have you on board!

Natural Plaster Course and Weekend Workshop with Athena Steen
We are so excited that our master plasterer and amazing teacher Athena is coming back from Arizona to teach this year! She will facilitate a 2-week Natural Plaster Course (July 17-28), and offering a 38-hour days jam-packed weekend workshop for those wishing to learn natural plasters and finishing. The weekend workshop will be held on July 21-23 (Fri-Sun). Check out this link for detail information
In this course, you'll learn about choices, techniques, colors and textures and how to get results on different backgrounds. Discover the tools of the trade, and enjoy the change a finishing plaster brings to the room.
Online registration is available on OUR website. Reserve your spot today!
UBC Community Field Experience at O.U.R. Ecovillage
By Mark Rostrup
"The more slowly trees grow at first, the sounder they are at the core, and I think the same is true of human beings." – Henry David Thoreau
The sun is out, the roosters crow, and the whole village is buzzing with activity: three volunteers dig into the soil in the greenhouse planting tomatoes; another handful brushing stain on a small wooden deck; and we sit under a shady maple, planning out educational activities for new student visitors. We are five students from UBC's Bachelor of Education program from different walks of life. After successfully completing the ten week practicum in public or independent schools in the Lower Mainland, we have come to live in the ecovillage for three weeks. Our first week as volunteers has been one of settling into the farm life. The remaining days will be spent discovering what it means to practice sustainability and how to bring it to the classroom. As educators, our goal is to learn how to communicate the principles of permaculture in our practice as classroom teachers. One of the main ways to do that is to slow down and observe. One issue confronting classrooms is our attempt to jam in as much learning as possible through lessons and content, flashing media before students in order to fill their minds. But sometimes when we slow down and focus on the process or systems, learning can be more meaningful to the learner. In experiencing the farm first hand, it gives us the ability to experience what our learners may discover through engaging with sustainable systems. What lies ahead for us? Lots of observation and practice. We are hoping to meet some new students and learn what it's like to teach sustainability all while living the permaculture life.

Bees and Beings: the Sacred Path of Bee with Debra Roberts Aug 25-27
Good news to all bees' lovers in the Cowichan Valley! Natural beekeeper and international honeybees education Debra Roberts will be in town this August! OUR invited her to take us on a journey to the sacredness of beekeeping and the alchemy of honey, listening into our own path and consciousness as individuals within a collective.
Debra travels around the world teaching and speaking on subjects like natural compassionate beekeeping, beekeeping as a sacred practice, and shares stories from her life on the Good Bee Road. She is a Master Beekeeper, Founder of Holy Bee Press, on the board of The Center for Honeybee Research, a bee mentor for Hamaatsa (an indigenous learning center in New Mexico), and was chosen as one of the Heroes of Asheville in 2014. She also created the online series, The Sacred Path of Bee, for bee appreciators worldwide. Debra resides in the mountains of Western North Carolina with her husband Joe, cat Habla, and millions of honeybees.
The event will take place on Aug 25-27, Fri-Sun. Registration is available online on Bees and Beings event link on our website. Limited availability. Registration close on 23rd Jun, 2017.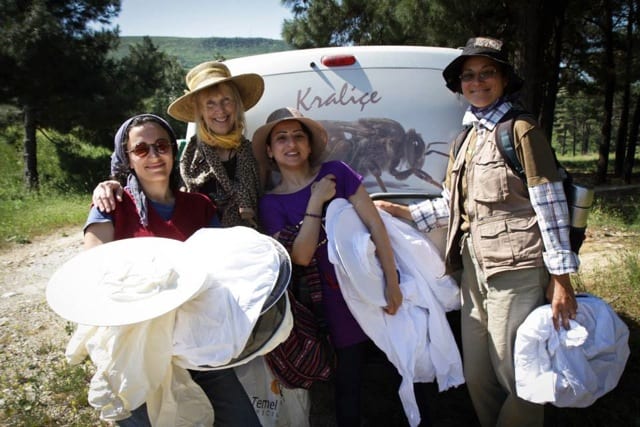 Garden and CSA program Update
by Gracelynn Lau, education coordinator
We began this year's season with the combination of a harsh winter and a rainy spring. As permaculture farmers, our garden team's job is to tune in to Mother Nature, observe and interact with climate change and apply the best practice for the seedlings, the soil and us. After 2 years of summer drought, this year the land is blessed with abundance of rain, the perennials in food forest are happy, and all Brassica seedlings and salad mix starts in trays are free from bolting before they get a chance to be planted. That being said, we are experiencing a slow season start.
We are excited to share the bounty with OUR CSA (Community Supported Agriculture) members, and celebrating the delicious and diverse treasures that grow in OUR Garden. OUR CSA program started on Jun 8; our members are enjoying the specialty surprised items in their boxes! Other than fresh veggies from the land and handcrafted bread, last week we shared a handcrafted super rich vegan dark chocolate, made from fair-trade organic cacao butter and cacao powders from Organic Matter, an organic food wholesaler in Nelson, with organic coconut oil and sugar. The recipe is from OUR amazing friend Amanda who came to OUR and bring us some garden and kitchen magic during the Permaculture Design Certificate Course last month. 
There are still limited spots open to join OUR CSA program. Go to OUR CSA program page to find out all the details!
Volunteers and Homesteaders Update
by Mark Berge, volunteer coordinator
OUR volunteering program has been as popular and exciting as ever. Recently we had 17 folks from all over the globe journey into the village. Arriving over only a period of a few days, each has come for an experience in communal living. Every one brings their own vision of why they've come, different parameters for their stay and a unique set of skills. And when we all come together in harmony, the magical music of village living can be heard. And it seems to be getting louder.
I have been receiving increasing numbers of applications from a diversity of countries. This to me signifies a trend that is continuing to gain momentum. An increasing number of people are feeling drawn to this place and I would imagine other places like it. This excites me, I find heart warming. And that is something that I wished to share with you. So I have.
Thanks for reading.
If you or someone you know is wanting to come and experience the grounded thrill ride of village volunteering please do let me know. We are always on the look out for future collaborators. Email info@ourecovillage.org
Freya and Kai's Business is Flying!
These days you can find Freya making lots of beautiful jewellry and cooking up great designs with Kai whenever he is in the village camping out with us for stints!  They are happy to have brought their business to new heights with precious stones built into incredible copper wire
"Tree of Life"
designs.  You can
book Freya and Gracelynn
for a
"Healing Journey of the Sacred Tree"
(forest and wild walk meditation brought into manifest with your own crafted beauty to take home as a medicine token).
Available:  Jewellry custom made or off the shelf, group classes, or individual Healing Journey Session (2.5 hours).
Amazing gifts for others – buy direct or provide a Gift Certificate
business climate change communities community construction cooking course dream ecovillage family farm food garden gifts green green building heart hemp life love magic media meditation members music natural news organic OUR people permaculture planting plaster soil summer support sustainability sustainable volunteer