OUR People Profile – Ciara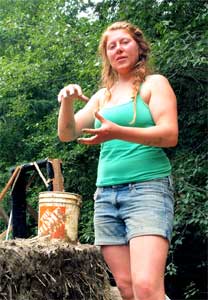 Name: Ciara
Nationality: Canadian
Time at the Ecovillage: Four months total (May–August, 2013)
Reasons for coming? I'm really interested in a simple way of life, permaculture, and living in community. I wanted to learn more about how people live together, find the balance between giving and taking, and how we learn to live in community. I wanted to be surrounded by like-minded people, live around and experience cob, and learn how we can live on a smaller scale.
What sort of work are you doing here?
I'm on the natural building team learning about building natural houses, working with cob, building non-toxic homes, and using natural building materials and paints and things like that. I'm spending a lot of time getting dirty! Also, I'm taking part in the daily things that need to get done here.
How did you find out about the Ecovillage?
I found out about the course through Pat Hennebery's website, Cobworks. I always have four months off in the summer, and so when I saw the four-month internship it felt perfect, like it was meant to be.
Best thing?
For me, it's the conversations that get held over mixing cob, around the fire—sharing experiences and talking and learning about how we can be the best humans we can possibly be. I also love the interactions with everything, not just people, but listening, observing, and seeing how everything works. It is opening my eyes to all the different connections and I'm seeing the beauty everywhere.
Anything challenging about it?
Making sure to get enough time for myself individually—community living is busy, in a beautiful way, with so much to do and experience, but I find it really important to take time to read and write and find that individual time. I think it's important for all of us to find that time.
Advice for other interested interns?
Come with an open heart and open mind, and take in as much as you can and all that this place has to offer. It's not just the internship, there is so much more to offer.
Where are you planning to go next or what are you planning to do?
I'm going to return to Whistler with a whole new perspective on life and everything about it, and work for the next eight months. After that I want to volunteer for at least a year on farms, gardens, or in small communities. Sort of do a WOOFing thing. Just live life and experience it.
What's a typical day in the life?
I wake up to a symphony of birds in the forest and sunlight shining through the cedar trees. I practice yoga as the sun comes up, then have breakfast and meet with the whole building team. We do a check-in about how we are feeling and talk about logistics for the day, then mix cob and continue to build the house we are working on—framing, making doors, etc. We eat lunch with the Village, then do more building. Often we ride our bikes to jump in the lake before dinner. The evenings are filled with different Village activities, or time to read, chat, go up Baldy Mountain, etc.
Anything else you would like to share with readers?
I think it's great how people can come from so many different backgrounds, from all over the world, and how we can all live together in harmony. That it's possible. That's what I learned. At the end of the day, we are learning about how it all comes down to communication and how we can all communicate together.
Thanks, Ciara! Best of luck in your future! —OUR
cob communication course heart internship life love lunch natural natural building OUR people volunteer