Permaculture Design Course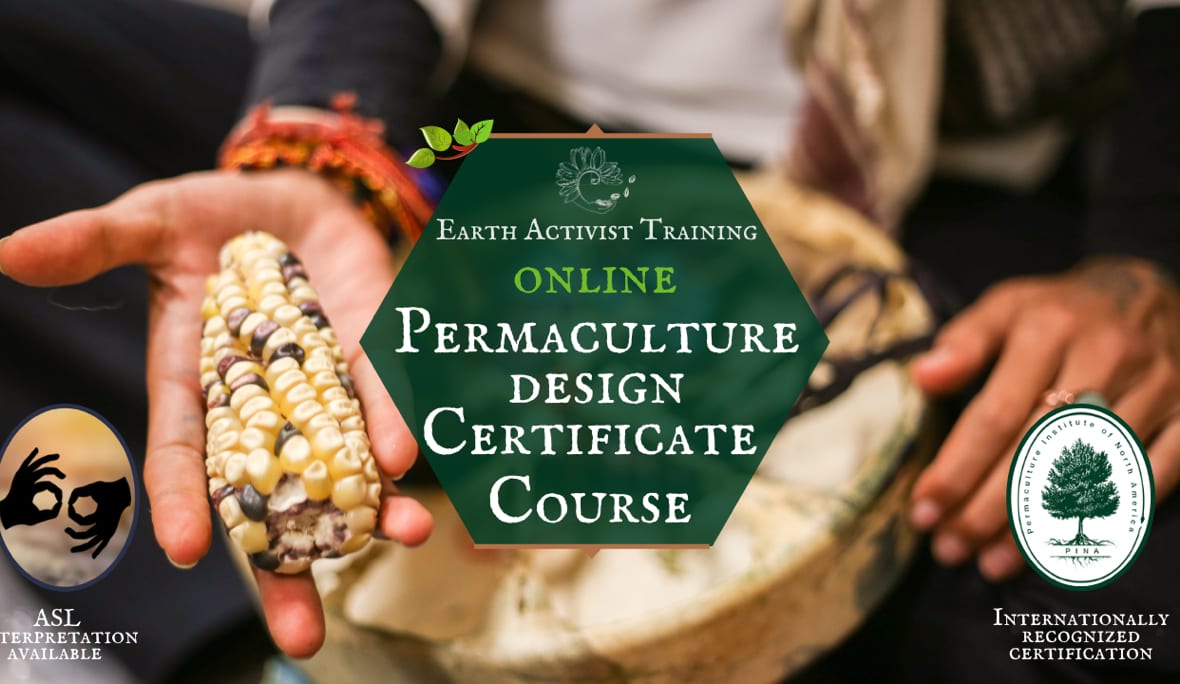 Learn how to design human systems that mimic natural systems, using a minimum of energy and resources and creating real abundance and social justice. 
We will cover principles and ethics, reading the landscape, how to heal soil and cleanse water, design integrated systems, harvest water, drought-proof land, build soil, sequester carbon, make compost, compost tea, and biochar, bio-remediate toxins, and more. Explore the solutions to climate change, and the strategies and organizing tools that can put them into place. 
Join Starhawk, Charles Williams and an all star cast for Earth Activist Training's second fully online Permaculture Design Certificate Course.
We have been teaching this course for 20 years and now are adapting our teaching skills to the needs of the moment. We are excited to share with our global Earth Activist friends, family, and new community! Students who complete the course requirement receive a Permaculture Design Certificate, recognized by PINA (Permaculture Institute of North America).
COURSE OUTLINE
LIVE CLASS: Tuesdays 6:00-8:00 PM pst
Course begins Tuesday January 26th, 2021.
Each week you will also be assigned 2-3 hrs of homework and/ or hands-on projects to complete your 72 hour certification.
Weekly Assignments & Hands-on projects will vary but may include mapping, water harvesting structures, gray water or roof catchment, compost, compost teas, sheet mulch, plant propagation, planting trees and shrubs, seed-starting, introductions to natural building concepts (including cob, straw-clay or plastering) and a collaborative design project.
We understand these will be dependent on your ability to have access to the resources needed to perform them. Projects can be tailored to students of varied levels of physical ability, access and diverse ages. If you have any questions regarding your ability to meet any of the Permaculture Design Certificate requirements, please contact our support team: earthactivistsonline@gmail.com
CERTIFICATION
MEETING CLASS REQUIREMENTS:  Completing the full list of assigned projects/ homework and attending classes are required to complete your 72 hr certificate. Students must attend 80% of Live Classes.
*If this is in the middle of the night for your timezone – we can arrange a video replay check in to ensure attendance. *If meeting these requirements is going to be an issue for other reasons but you still wish to attend this training, please contact our support team to find a solution:  earthactivistsonline@gmail.com

Internationally Certified Program
Earth Activist Training offers our Permaculture Design Certificate in association with the Permaculture Institute of North America. Each student who officially completes the required coursework will receive a Permaculture Design Certificate which will be registered with PINA.
TUITION
Course Cost: Sliding Scale $960-1210 CAD
Standard Tuition: $1080.00
Resilient Tuition: $960.00
Abundance Tuition: $1,210.00
2 Part Payment Plan: $540 down and $540 CAD the following month