Profile: Skill Trader Rachel
Name: Rachel
Nationality: New Zealand
Time at the Ecovillage: Three weeks
Reasons for coming / how did you find out about the Ecovillage?
I came for the Social Permaculture course with Starhawk, but I was also drawn to the course because it was at OUR Ecovillage. I did my PDC at Tui Community in Golden Bay, New Zealand and one of the instructors, Robina McCurdy, had taught at the Village before and showed us pictures as part of a slide show one night. I was really drawn to the Natural Building focus at the Village.
I was already travelling in Europe and Asia and came to Canada to do the Social Permaculture course. I'm staying here for about three weeks and skill trading for part of my tuition.
What sort of work are you doing here?
Building with cob, which I love. I'm working on the Eatery and the Turtle House.
Best thing?
I really, really love the cob work. It's pretty amazing to work with Pat, working alongside him all day and asking all the questions I've never had a chance to ask about natural building. Plus, he's incredible—the cob person in Canada. It's great to spend time working with him.
Interesting or funny stories
Eating bear was probably the most novel thing I've done in Canada! It was delicious, too.
Advice for other interested volunteers/skill-traders?
Be prepared to do anything. When you are open to new experiences you learn and enjoy more. Be open to learning, mucking in, and helping where needed. You learn so fast that way.
Bring old working clothes that can get dirty as well as warm clothes and bedding. It gets cold at night!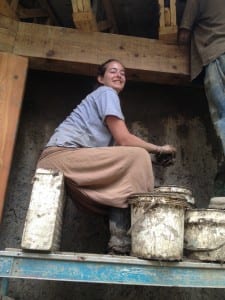 Where are you planning to go next or what are you planning to do?
I'm going to Kootenay Bay near Nelson to stay at an ashram and volunteer in their organic gardens. After that, I'm heading back to New Zealand. I want to build a trailer like Pat's [tear drop trailer], using as many recycled materials as possible so I can continue travelling and working at Permaculture centres in New Zealand.
Anything else you would like to share with readers?
I really think it's one of the best ways to learn–to volunteer. I think you can learn so much more when you are working alongside experienced people on different projects. It's an incredible experience that you don't have to pay money for. The community here at OUR Ecovillage is amazing and I would love to come back one day.
Thanks, Rachel! We'd love to have you back any time.
cob community course love natural organic OUR people volunteer