Weekend Plaster Course
As part of the fourth module in our Natural Building Extravaganza, we will be offering a weekend package for those wishing to learn natural plasters and finishing from two experts in the field, Athena Steen and Cindy Walker.
About
Earthen Plasters bring a special feel to a home. And while natural plasters are available 'in a bag' you may want to know what's inside: this is what we'll work with during Module 3. Learn about choices, techniques, colors and textures and how to get results on different backgrounds. Discover the tools of the trade, and enjoy the change a finishing plaster brings to the room.
Cost
Friday – Sunday (3 8-hour days jam-packed with learning):
$159.99 plus accommodation (camping or lodging)*
*food included in registration price
**We request that participants come in for dinner onwards (5pm) on the day prior to your course start date, and leave the day after your last day of courses.
Instructors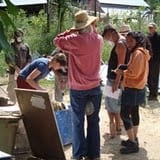 Cindy Walker lives near Nelson, BC and started natural building in 2001 by building her own cob home with Elke Cole.  At that time, natural plasters were relatively new in BC, so she went to New Mexico and Arizona to learn from experts in the field, such as Athena.  In 2007, Cindy started a business near Nelson, specializing in natural plasters & woodchip clay building.  The focus has been to develop high quality natural plaster & paint methods, as well as training crews and homeowners.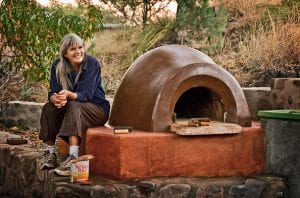 Athena Steen is a master plasterer who calls Canelo, Arizona home. In 1989 with her partner Bill, she co-founded the Canelo Project, a non-profit organization whose work centres on connecting people, culture, and nature. The focal point of Athena and Bill's work is handcrafting simple, small-scale and comfortable shelters that are built primarily with local and natural materials. In that pursuit, they have evolved a unique straw bale and clay wall system that is finished with beautiful clay and lime plasters, sculptural wall carvings, earthen floors and clay ovens. Throughout her career, Athena has also taught and worked extensively in Mexico, taught workshops and lectured throughout Europe and the United States.
1. Please email us with an expression of interest for the weekend course. A bit of a background on who you are, what you hope to learn, and any experience you may already have would be appreciated and help us build the best course possible for you!
2. Select the '2016 Natural Building Internship Application' ticket below and pay the $159.99 registration fee.
3.
We will respond to your email to discuss accommodations and any other relevant needs.
If you have ANY questions or challenges with the registration process, please
email
 or phone the office at 
1.250.743.3067
.
business cob course email local natural natural building natural plaster plaster straw bale training workshops