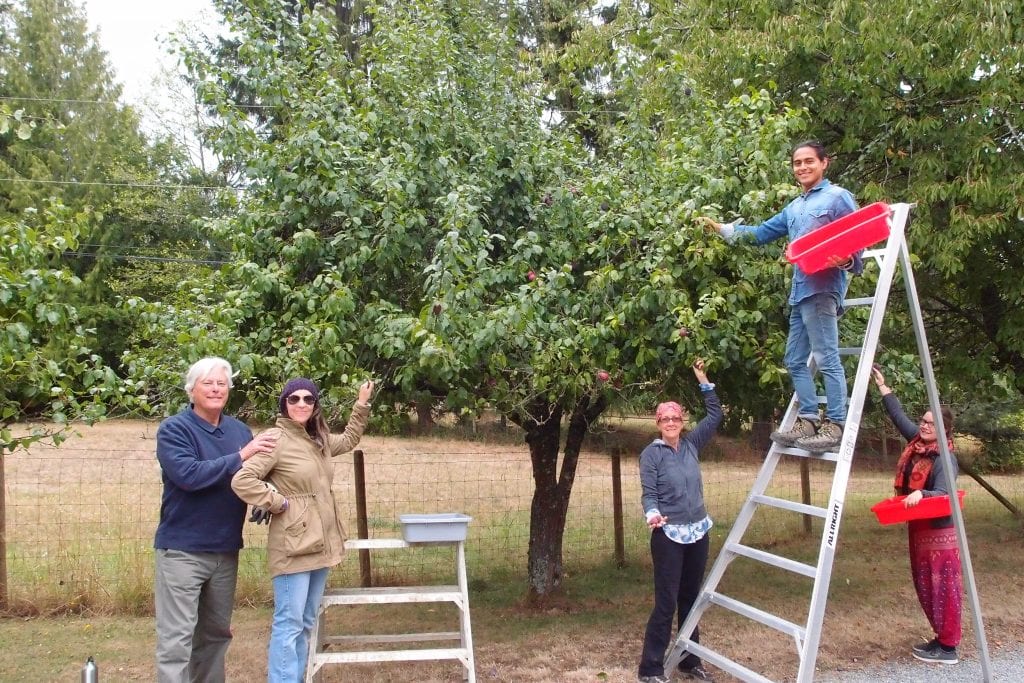 Looking to make an impact?
Are you searching for a chance to be an active part of a rich and rewarding ecovillage community lifestyle? Does the opportunity of spending quality time fully immersed in one of North America's premiere sustainable living demonstration sites sound appealing? How about living among like minded folks from across the globe? If these prospects excite you then chances are you'll truly love the volunteering experience available at OUR Ecovillage. Covid-19 restrictions apply.
We are currently looking for volunteers who can commit to either 3 or 6 month periods.
Please fill out our volunteer application form if you have any of these skills or other skills you wish to offer.
Kitchen Coordinator and Chef
OUR Zero Mile Meal Eatery is an amazing handcrafted natural building (cob strawbale) based in a 25-acre Sustainable/Permaculture Living Demonstration Site and Education Centre. With a 3 season busy rhythm, lots of visitors and course participants, and a number of events, there is a diverse range of activities in this role. OUR team highly values someone who can work with 'food as medicine' and is interested in working with health practitioners and other foodies. We host many volunteers who need a framework for helping in the kitchen, often teach school groups, and are hoping for pure love flowing through the foods we share. An emphasis is placed on obtaining as much food from the land as possible and storing/preserving as much as we can bring in (including huge amounts of gleaning). This is a community-based project, with a possibility of a small/beautiful residential space. It is a busy role at times with high production and slow and creative at other points. We are hopeful for someone who very much wishes to become the face of this incredibly unique space.
We are looking for someone who is full time for:
Ordering and scheduling

Performing regular costing and inventory

Meeting regularly with the leadership team and other staff

Creating interesting and medicinal menus (mostly all buffet)

Supervising consistency and speed of recipes being prepared

Managing opening and closing duties for kitchen

Managing events food team

Developing inspiring specials on menu
Requirements
Minimum 3 years of kitchen experience is required; more than 5 years is an asset.

People skills and the ability to lead a team of diverse staff and volunteers

Personal interest in food as medicine, community atmosphere, holistic health, and experience cooking for vegan/vegetarian/paleo/gluten free diets (or willing to learn)

Openness to personal development, conscious communication and self responsibility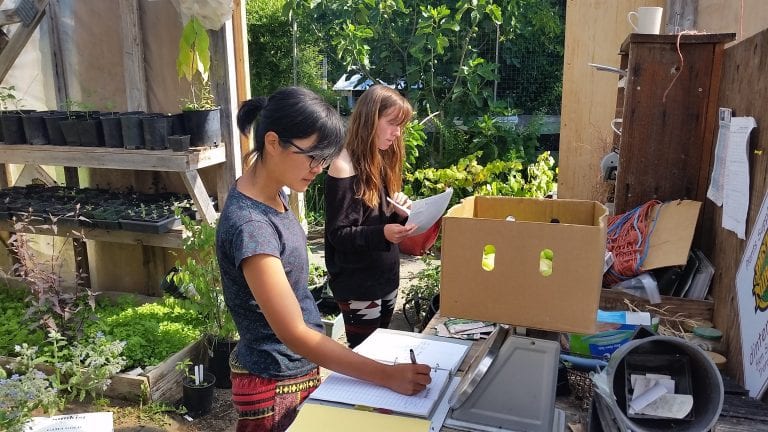 Farm and Garden Coordinator
8 months, March-October
Compensation is dependent on Experience. Food and Accommodation included.
We are looking for someone who is an experienced and competent organic gardener who can co-create and maintain a holistic/permaculture garden management plan and put it into action.  Ideally, this person will have experience in facilitating, educating, delegating, and leading others in the garden with an attitude of excitement for the plants and the activities at hand.  This person must have good communication skills, self-motivation, the ability to work alone and in a group, good conflict resolution skills and openness to sustainable living practices through living in a learning community.  Skills of additional benefit to the position:  background in botany; Permaculture/ecological design & application; landscape design, installation & management of irrigation and infrastructure; community development and an interest in intentional, sustainable living.
We host many volunteers who assist in the farm, often teach school groups, and hope for pure love flowing through the foods/land we share. Being highly organized and focused on safety and project management is important.  An emphasis is placed on obtaining as much food from the land as possible and storing/preserving as much as we can bring in (including huge amounts of gleaning). This is a community-based project with a possibility of a small/beautiful residential space. It is a busy role at times with high production and slow and creative at other points. We are hopeful for someone who very much wishes to become the face of this incredibly unique space.
Job activities and responsibilities (not limited to):
Managing annual vegetable production in our raised-bed gardens and greenhouses (for CSA and OUR kitchen)

Managing perennial food production in our developing orchards, food forests, and perennial systems

Expanding food production by designing and developing new garden and food forest areas as well as improving upon the designs of existing areas and systems

Assist with Livestock Management (jersey, goats, sheep, pigs, chickens/ducks).

Co-creating & implementing a garden management plan based upon organic philosophies and methods and 'OUR Food Manifesto.'

Garden data recording & monitoring: i.e. weather keeping, planting charts, watering schedules, etc.

Facilitating/leading students & volunteers in organized hands-on garden-related projects: Permaculture Design & Organic Food Production Skillbuilder program.

Participate in student feedback/assessments

Curriculum Co-development with program coordinator/supervisor and education program if inclined.

Working with the on-site cook in developing available produce schedules.

Work with the continuance of "Farm Status."

Continue to establish nursery & garden expansion.
As part of OUR ECOVILLAGE's committed ground team, you will be able to access some of our guest programs and a wide number of OUR courses.  We are working to create this position as part of the Internship framework for the Global Ecovillage Network. We will be piloting how to build in as many different training components of skills for living/working in a cooperative, collective, community lifestyle.  This is a high-value learning opportunity, and rather than paying for a full Internship with OUR school, we have opened this position up for more as a win-win. We will be offered some compensation depending on experience.  We work together in the village to share tasks and manage all the elements of a large demonstration site and intentional community that hosts lots of incredible learning programs (K-12, Universities/Colleges, building industry, regulatory authorities).  We aim to be a highly professional that still maintains a creative edge while being as zero waste as possible.  This is a 6-month role, but this could potentially turn into a longer position if Canadian and depending on your fit in the role/village as we will be shortlisting for a business partner.
*There is also a potential opportunity for those who qualify under the 'unemployment reachback' framework of EI to apply for a paid position with OUR Education Team – please CONTACT US for further information on this related potential contract.
Your content goes here. Edit or remove this text inline or in the module Content settings. You can also style every aspect of this content in the module Design settings and even apply custom CSS to this text in the module Advanced settings.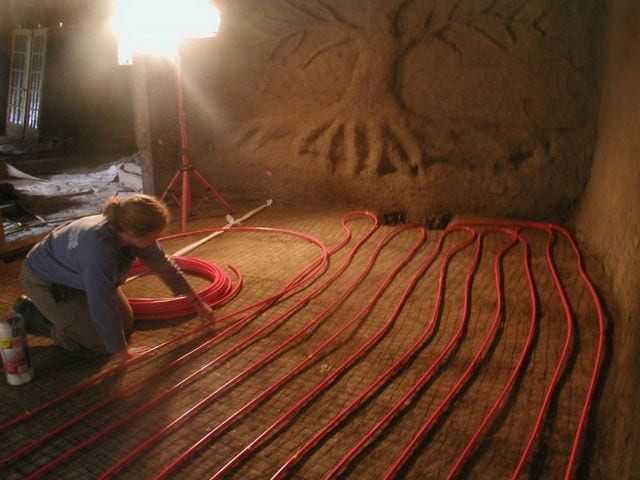 Other Positions
Tradespeople (Carpenters, Electricians)
Natural Builders
Teachers and Educators
Google Ads SEO
Have something interesting to offer? Get in touch and let us know!
As a volunteer, you will  join us in day-to-day village life. Whether tending to the garden, building up on-site infrastructure, or cooking lunch, you will have many avenues to contribute to OUR Ecovillage and gain experience in the area of your interest. In addition to the hands-on tasks, you will also have an opportunity to learn and practice essential "soft"-skills for community building.
Living in OUR community means building relationships; with the land, the people and ourselves. This means participating in OUR daily check-ins, weekly community meetings and much more. As a village member, you will be invited to partake in and contribute your uniqueness to the medley that makes up OUR culture.
OUR Ecovillage is also renowned for its educational programs, which means many different courses occur throughout the year. Be prepared for many visitors and course participants congregating in this bastion of permaculture and sustainable living during your experience. Your unique skills are invited to help facilitate and/or prepare for the many wonderful learning opportunities available here.
While volunteering with OUR team, you will be able to camp onsite (weather permitting), potentially stay in OUR dorm space (availability permitting) or, if coming for a longer-term stay, your own trailer or temporary shelter. We will share more information on short and long-term stays below.
Along with filling out the volunteer form (link below), please attach resumes and background information and let us know why you want to join us. We want to get to know you and your vision of volunteering with OUR Ecovillage.
From there, you will be in touch with a lovely villager who'll correspond with you in creating your village experience. We are happy to answer any questions that you may have, so please feel free to ask us anything.
It is pertinent to mention that certain parameters have been put in place for the volunteering program within which we can craft individual experiences of contribution. For starters, we have a standard trial period of up to 7 days for new volunteers. This period is of great importance as it allows the village and volunteer to assess the fit and determine whether or not further volunteering is desirable for all involved. The volunteer coordinator will discuss details with you prior to and during the trial.
We prefer people who are willing and able to stay for longer periods, 1 month to longer, so that they can get into the flow of village life and maximize their experience.
For the length of stay, many factors are taken into consideration, such as the number of volunteers on site, particular skill sets that may be needed and time of proposed experience. Each situation is unique, and there are occasions where an individual comes for a 'try it out' period only to become a part of OUR community long term. This occurs through the development of trusting relationships and a desire for heightened responsibility and accountability by the individual. There are numerous examples of folks whose intention to volunteer short-term ends up extending to a stay through the season, to then come back and lead projects or courses, and in a few cases become long-term land stewards in OUR Ecovillage Cooperative.
Can you sense the myriad possibilities?
Are you feeling the call to join the magic at OUR Ecovillage?
OUR Volunteer program begins Spring 2021